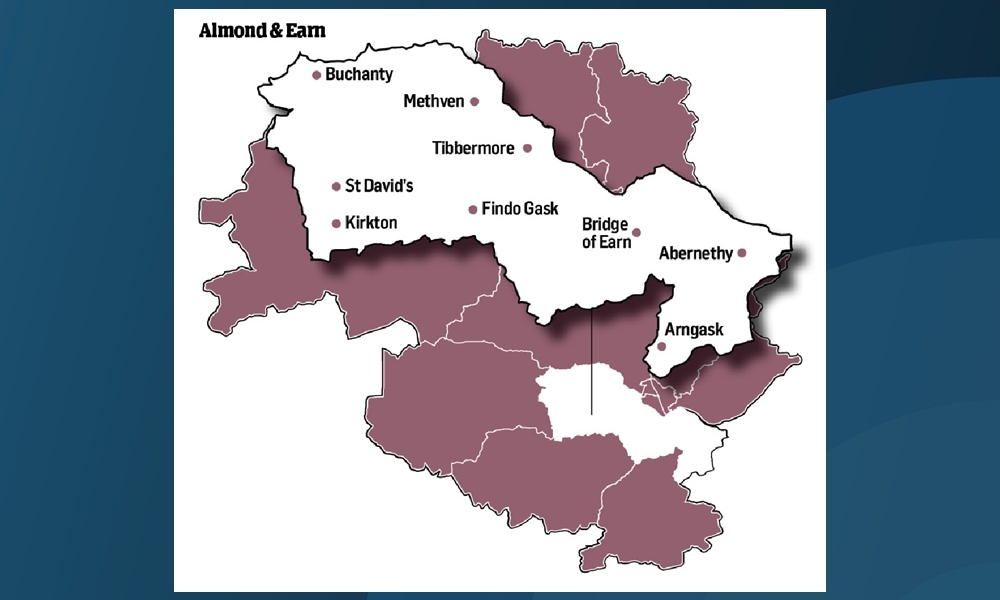 At the heart of the Almond and Earn ward is the vibrant village of Bridge of Earn.
Lying just off the M90 it is a popular commuter community and is set to grow larger in the coming years with the revitalisation of the Oudenarde project on the site of the former Bridge of Earn hospital.
After more than 20 years builders are ready to press ahead with the first phase of a 1,500 home private housing scheme which will take place over the coming decades.
As part of the expansion of the village local people would like to see a rail halt created which could be utilised by commuters.
The village nestles between Moncrieffe Hill to the north and the Ochil Hills to the south, making it a popular area for walkers and the ward stretches towards Crieff in the west.
Large employers include two of the area's best known private independent schools – Strathallan School and Glenalmond College.
In additional it has a number of primary schools – Abernethy, Dunbarney, Forgandenny, Forteviot, Madderty, Methven, Pitcairn and Ruthvenfield.
The largest engineering employer within Perth and Kinross, Vector Aerospace at Almondbank, lies within the ward and aother significant job providers is Branston Ltd.
The largest settlements are Bridge of Earn, Abernethy, Almondbank, Methven and Forgandenny which account for 67% of the population.
Following the death of sitting independent councillor Alan Jack, Kathleen Baird was elected for the Conservatives.
---
Candidate profiles
The Courier invited each candidate to submit a short introduction to themselves and, if they wished, a video explaining why they deserve your vote.
Henry Anderson (SNP)
Henry Anderson has served as an SNP councillor in Almond and Earn since 2012 and has had a particular interest in supporting the local leisure and commercial industries.
He moved to Perthshire from the north east of Scotland in 1970 and settled in Bridge of Earn. Married with three grown-up children, since 1985 he has owned various businesses in Almond and Earn.
Mr Anderson has been active in community councils and community organisations throughout the ward.
He has been pro-active in reviving the Bridge of Earn Institute, he supported the Abernethy Parks project and also the refurbishment of the Methven Park. As a member of the MacLaggan Trust at Madderty & St Davids, he has ensured that the people of Madderty & St Davids received funding to support the worthy causes of the parish.
He said: "If elected, I will build on the experiences I have gained from my previous time serving the community to ensure we have a strong and successful council."
Kathleen Baird (Conservative)
Kathleen Baird was elected following the death of independent councillor Alan Jack.
"It is hard to believe that a year has gone by since I won the Almond and Earn by-election," she said. "During the year I have had enormous support from so many people and it has been an enormous privilege to  serve the community .
"I would consider it a real privilege to continue to represent the rural ward of Almond and Earn.
"Having lived and raised my family locally I know this area well and understand the problems facing rural communities.
"Since being elected last April, I have listened to the residents and tried to do my best for all who live in Almond and Earn.
"My pledge to you, is that I will listen to your concerns and will always put your issues and concerns before party politics.
"It is time for more investment for rural communities. Rural issues cannot be ignored."
Linda Buchan (Green)
Linda Buchan said she can represent those who are "disillusioned" with politics.
"I live in Abernethy and I am proud to have recently been elected on to the community council," she said. "I am also a trustee of the local 'Lighthouse for Perth' charity.
"By demonstrating a modern kind of politics, we can work together to address inequality, care for our environment, protect our public services and deliver meaningful representation.
"If elected, I will campaign passionately to help transform mental health services. "People are being badly let down under the current system. I will also work to protect public services – in particular improving/promoting public transport.
"I will also campaign for funding to Perthshire Women's Aid, who provide an essential service for local women and children.
"It's clear from conversations that I have had with many of you that you are disillusioned with politics. You have a right to fair, equal and inclusive representation and my pledge is to engage and consult with people on local issues."
Peter Glennie (SNP)
Abernethy has been the home of SNP candidate Peter Glennie for the past two decades. Through his service on Abernethy and District Community Council, he says he understands all the pressures on the local community.
A retired chartered engineer, during his career he was responsible for all aspects of the design and operation of major infrastructure projects in the energy and telecom sectors.
In the five years prior to retirement Peter recruited and assisted 200 individuals to fulfil their ambitions of becoming qualified electrical engineers.  He is passionate about mentoring and encouraging young people into the engineering sector.
Through his time on the community council Mr Glennie says he is aware of the challenges of transport and welcomes the £150,000 extra the SNP is investing in this service.
He said: "If elected, I will seek to attend community council meetings and other community groups throughout the ward and represent their interests within Perth and Kinross Council."
David Illingworth (Conservative)
"My wife and I moved to Abernethy from Perth nearly 20 years ago, almost by accident," he said.
"We quickly fell in love with the area and have brought up our children here, sending them to Abernethy Primary School and Perth High School.
"My career background is in IT, but I have always been fascinated by politics, so I'm delighted to have been selected to stand with Kathleen Baird as a Scottish Conservative candidate for the Almond and Earn ward.
"Perth and Kinross Council is a large, complex organisation with 5,000 employees.  It seems to me, that in order to be successful it needs to focus on the things that really affect the lives of the people of the area like education, roads and social care for the elderly.
"Councillors should also never forget how hard people work to pay their council tax and if elected I will always strive to get the best value for your hard earned money. In addition I will work hard to make sure your voice is heard on the council."
Chris Rennie (Liberal Dem)
Chris says he would be an advocate for the community.
"I have always been passionate about politics but especially local politics because decisions that are taken by councillors affect all of us in our everyday lives," he said. "And yet, the council can too often seem remote and out of touch, particularly to people in rural wards like Almond and Earn.
"I first stood for Perth and Kinross Council as an independent in by-elections in 2010 and 2011 before joining the Liberal Democrats in early 2012, and for the past five years have passionately campaigned as a local party activist through all the elections and referenda we have had.
"For the past four years, I have sat on the executive committee of Perth and Kinross Liberal Democrats and was previously secretary of the local party.
"These council elections are happening at a crucial time, when constitutional issues continue to dominate like never before. "
He said that "hard Brexit" and the threat of a further independence referendum and now the general election are "switching people off from politics".