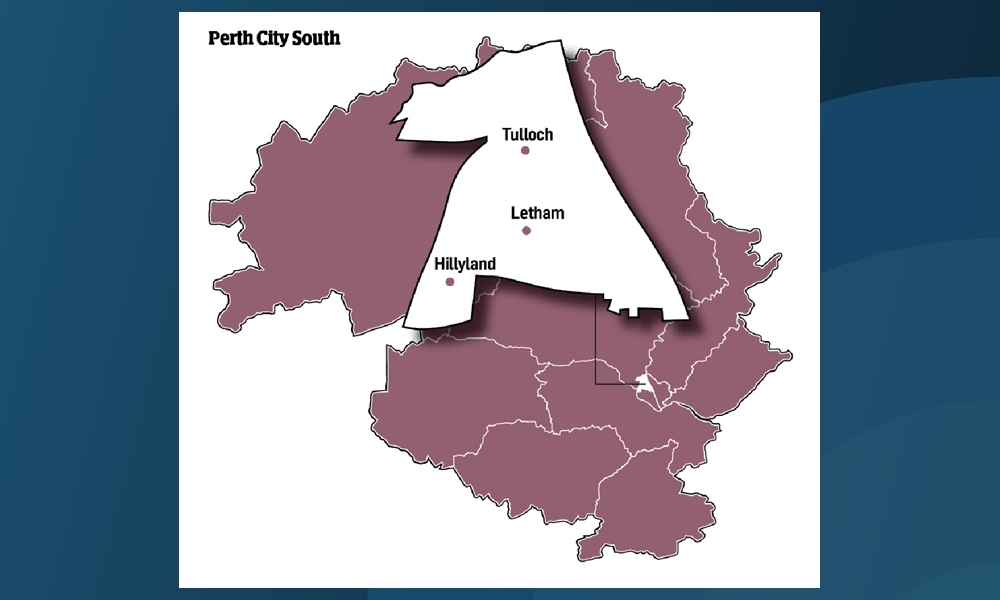 The Perth City South ward is made up of Craigie, Moncrieffe and Friarton.
The ward is bounded by Glasgow Road in the north-west, the railway line in the north-east and the Friarton Bridge, crossing the River Tay, and M90 motorway to the south.
It has the smallest population (approximately 13,630) of the three Perth City wards and accounts for just under a third of all people living in Perth. It has a slightly higher percentage of pensioners.
Among the area's biggest employers is Perth Royal Infirmary, which is in the midst of a nursing shortage.
In March, it emerged that Tayside health bosses had had to cut back on procedures and merge wards because of low staff numbers.
Significant efforts are ongoing to fill around 170 vacant whole-time equivalent posts within the health board.
Other big employers in Perth City South are Norwich Union and the Royal Mail.
Statistics show that there is a slight higher than average level of people with mental health issues.
Perth and Kinross Council has earmarked £10 million to replace Perth High School following concerns about its ageing condition.
Recently, worries were raised about staffing levels at the 1,470-roll school with claims that eight staff were absent due to stress.
Pupils at Oakbank School moved into their upgraded building in 2015.
---
Candidate profiles
The Courier invited each candidate to submit a short introduction to themselves and, if they wished, a video explaining why they deserve your vote.
Bob Band (SNP)
Bob was first elected to council in 2007 and has been appointed to numerous roles including convenerships of the licensing board, Tayside Fire and Rescue Board and the local review body.
He holds the vice-convenership of the development management committee, and is convener of the lifelong learning committee.
Bob is also a member of the Perth Theatre renovation project management board, and Culture Perth & Kinross board, and as depute provost has represented the provost and the authority on numerous occasions.
He said: "I am delighted to be selected as a candidate to contest Perth City South Ward, an area I live in, and have been privileged to serve since 2007.
"The knowledge and experience I have gained during my term on the council will enhance my ability to deliver improved public services for communities within Perth City South Ward.
He added: I have demonstrated over 10 years my energy and commitment for Perth and if elected I commit to continuing this work in your name so that together we can continue to improve Perth City South."
 Susan Bathgate (independent)
Susan says she decided to stand to offer people something different because the options people have from the political parties are limited.
Susan does not think party politics is relevant to local authority decision making. Much more attention is needed to make council business transparent, accessible and inclusive of residents.
She says the current council has a habit of presenting plans as done deals, with little or no consultation or consideration of other options.
She said: "Some of these can only be described as grandiose, like the lighting up of the city at a cost of £12 million. After all it doesn't get dark at the moment until 8pm, so who will see the lights?"
Susan says community empowerment needs to be more than a buzzword. It means people are well informed, in simple English, on matters that are important to them, with direct ability to influence decisions made.
If elected, Susan will make sure South Perth Constituents are not an afterthought.
Damian Houston (independent)
Mr Houston said: "I live in the ward, work in Perth and I am a father of two.  I have a working background in marketing and commercial management and see the role as a councillor as a public servant and not a political one.
"My decision to stand is based largely due to the main political parties trying to treat this election as support for or against the independence referendum.  My campaign is about local issues. As an independent councillor, I would put the needs of the people of Perth before the wants of a party."
He added: "Perth needs strong councillors, with ideas and solutions to the issues and problems faced by the people who live here. We need to champion local businesses and those who wish to invest and provide employment in Perth.
"I am also concerned about how cuts to health and education services will affect the lives and opportunities for our future generations.  Yet, no matter how much is being cut, there always seems to be money available for vanity projects which offer no value for the people who pay taxes in Perth.
"Please give me your first preference vote and together we can make a difference."
Michael Jamieson (Conservative)
Mr Jamieson said: "Alexander Stewart worked tirelessly for the ward over many years, and I am fully committed to taking up the challenge of representing the ward if I am elected as one of the ward's councillors.
"My background in the entertainment industry and as a music teacher has given me great experience in dealing with people in both the public and private sector.
"I worked for Perth and Kinross Council instrumental music service, administer Perform in Perth and serve on many national music festival committees. Locally, I am a twice past president of the Rotary Club of Perth St Johns."
He added: "My key focus will be the residents of Perth City South and education, in particular the instrumental music service which has suffered many threats recently.
"I am very concerned that the SNP-run Perth and Kinross Council have hiked up the council tax for all householders. Worse still, the SNP Government in Edinburgh are slashing the central grant to local councils. So you'll pay more council tax, but get poorer local services. I shall do all I can to stand up to the SNP and provide the strong opposition required."
Sheila McCole (SNP)
Sheila was born and raised in Perth and enjoys long-standing community connections across the city and especially in Perth City South, where she's lived since 1996.
Sheila spent many years working for global companies and now owns a business services company, with clients at home and abroad.
An experienced practitioner in EU public procurement, Sheila seeks to bring her skills and expertise to strengthen scrutiny and challenge of council tender and contract award processes.
She said: "I am thrilled to have been selected to contest my local ward of Perth City South. Being self-employed, I have the flexibility and availability to respond to constituents' issues promptly.
"I am committed to doing politics differently and to champion social justice, fairness and equality. My ambition for Perth and Kinross Council is to be an exemplar authority in how services are designed and delivered.
"If elected as your councillor I pledge to work for everyone in Perth City South, and to promote and enhance our community within Perth and Kinross Council."
Alistair Munro (Labour)
"It has been a privilege and honour to represent Perth South for the last five years," said Mr Munro.
"I have worked hard in the constituency to bring about changes and take on the challenges that confronted me.
"I worked with my Labour colleagues as leader of the Labour group on Perth and Kinross Council to improve our communities.
"Health and education are always at the forefront of my thoughts as we tackle teacher shortages and bed blocking in our local hospitals.
"Perth South residents will always be my first priority and I will continue to stand up and be a voice for ordinary people in the ward."
Paul Vallot (Green)
Paul is a biologist, beekeeper and environmentalist who says he is seeking your vote to help make the environment and the many things that affect it central to all policies that Perth and Kinross council enact.
"Without a 'Green' voice, along with the continuing budget cuts being foisted upon us, the environment will continue to be pushed to the bottom of the priority list," said Mr Vallot.
"The pollution in Atholl Street, where the particulate pollution is the worst in the country. This is the result of failed policies and poor planning and continued budget cuts by the council."
Willie Wilson (Lib Dem)
Willie Wilson was first elected as a Liberal councillor for the Oakbank area in 1980 (to Perth and Kinross District Council).
Since then, he has been successful in being re-elected in each succeeding local election up until the present time.
Mr Wilson has served in a variety of convenerships and has been elected depute provost.
A former senior health service manager, Mr Wilson said his first priority as a councillor has been to "do his utmost to represent the residents of the ward he represents".