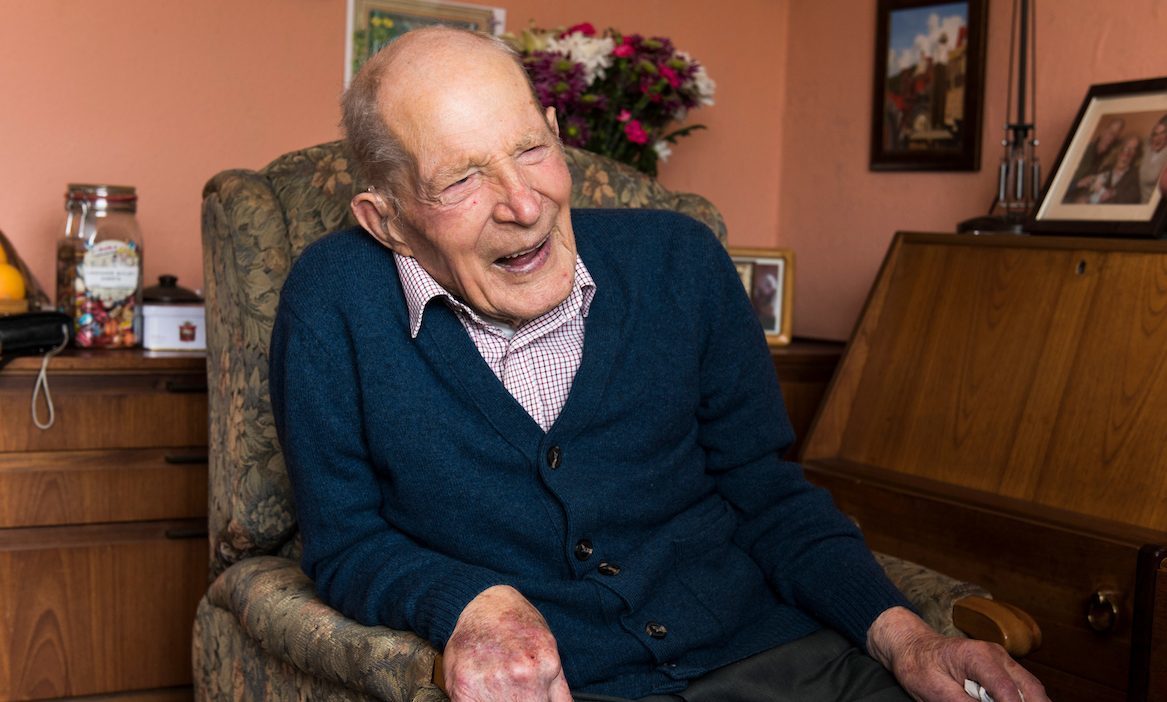 The Church of Scotland has honoured Britain's oldest man at his home in Perthshire.
Alfred Smith, who turned 109 at the end of March, was presented with the Kirk's prestigious lifetime of service award.
Remarkably, Mr Smith shares his title of Britain's oldest man with Bob Weighton, from Hampshire. They were both born on the same day. He says porridge is part of the secret to his long life.
Mr Smith, who lives in the village of St Madoes, has been a member of the Church of Scotland since 1945 and an Elder since 1967.
Moderator of the General Assembly Rt Rev Russell Barr visited Mr Smith at his home in the Carse of Gowrie to present the unique award on behalf of the church.
Mr Barr said: "Of all the many people I have met during my year as Moderator, Alfred Smith is one of the most remarkable.
"At 109-years-old, he retains a lively sense of humour, a continuing interest in life – including the life of the church – and he is a great story teller.
"It was a privilege to meet him and some of his family and to offer him my warmest congratulations."
Mr Smith said: "It is just wonderful to have a visit from the Moderator. How he finds the time to see me is quite something.
"I have always loved the church, as it has given me so much over the years."
Asked about the secret to his long and happy life, Mr Smith replied: "Porridge is helpful and having a job you enjoy.
"I think I've lived a decent life. I do ask myself – why me? Why have I lived so long when others haven't."
Mr Smith was born in Invergowrie in 1908. He was the fifth of six sons of John and Jessie Smith.
He went to Invergowrie Primary School and Harris Academy, Dundee, before emigrating to Canada, along with four of his brothers.
He returned five years later, in 1932, and went on to drive lorries for his brother, George.
During the Second World War, Mr Smith was in the Home Guard, and married Isobel when he was 29.
The couple went on to farm at Kinfauns where they raised two children, Irene and Allan. Mrs Smith died almost 14 years ago, aged 97.
Allan, who worked with his father on the farm for 40 years, passed away last year.
Mr Smith retired at the age of 70 but continued to go to the farm until well into his eighties.
Alf was blessing to local congregation
A member of the Free Church in Invergowrie until 1945, Mr Smith then became a member of the Church of Scotland and attended Kinfauns Parish Church which later joined with Kilspindie and St Madoes.
Minister of St  Madoes and Kinfauns Parish Church Marc Bircham said: "It has been a great joy and privilege to be Alf's minister and friend. He is a blessing to our congregation and community and on a personal level he has been a great encourager to myself, not least by referring to me as 'young man'."
His daughter Irene said he "took his responsibilities as an elder very seriously, visiting all his allocated members frequently, particularly those who were unable to attend church".
She added: "He did a lot of the organising for services, collection and distribution of Harvest offerings. He brought the organist to and from the church from Perth, and along with his son, did a lot of day-to-day maintenance of the church building."