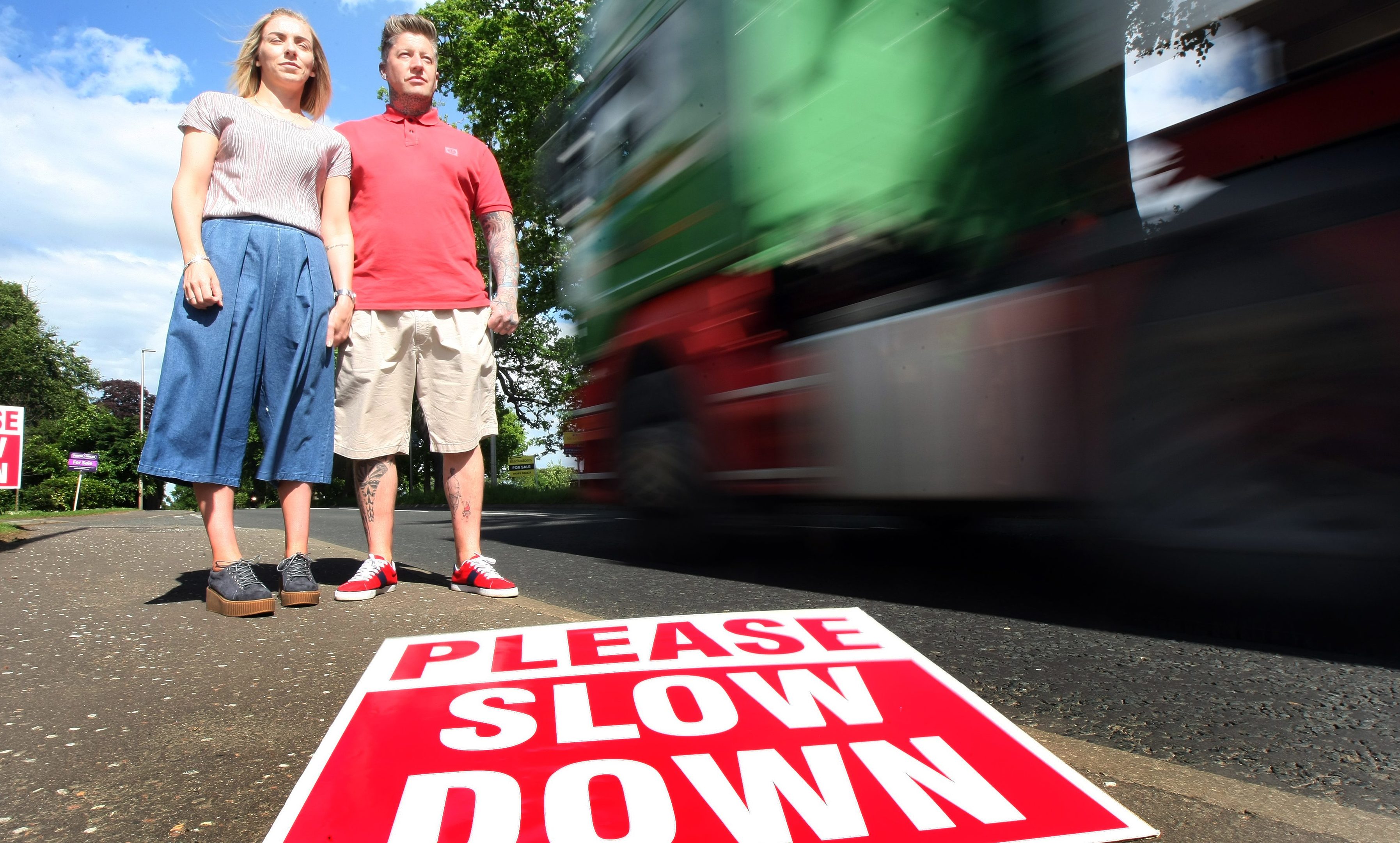 A delayed scheme to put the brakes on motorists at a Perthshire accident blackspot will begin next month, council bosses have confirmed.
A package of safety measures are being put in place at Forfar Road on the edge of Coupar Angus.
It follows calls for action by the parents of toddler Harlow Edwards, who was knocked down and killed on the route last year.
Sara and Steven Edwards staged a demonstration against speeders in June. Although they welcomed a recently installed part-time 20mph zone, they called on the council to make progress on much-discussed plans for a full upgrade.
Now the council has confirmed that work will begin in mid-August. Scheduled to last four to five weeks, the new look road – next to a popular playpark – won't be ready until after the school summer holidays.
The Edwards family have helped shape the work which includes a new three-way junction with traffic signals at Forfar Road and Larghan View, as well as a four-way junction at Coupar Angus Road and Priceland Road.
Bus stops on Forfar Road will be relocated and there will extra pathways in Larghan Park.
Speed safety campaigner Michael Gallagher, who worked with the Edwards family to highlight problems on Forfar Road to councillors, said: "I'd say the programme of works is certainly welcomed, although it is hard to understand the delay.
"Surely given the long-standing concerns about speeding at this section of Forfar Road, it should be given the highest priority."
Mr Gallagher added: "The works should make it safer for people crossing Forfar Road.
"However, the council doesn't mention concern over the narrow section of pavement where last year's tragic accident took place."
It is understood the council is negotiating with landowners about acquiring a strip of land to widen the pavement.
A spokesman said: "Consultation has been carried out with elected members and community council, who have indicated that these are the preferred options for road safety measures desired by the community.
"We intend to commence works at the Forfar Road, Larghan View junction on Monday, August 14.
"A date to start work at the Forfar Road, Coupar Angus Road and Priceland Road junction will be identified in due course."
He added: "We would like to apologise for any inconvenience caused by these works and remind residents to get in contact should they have any specific requirements."
A 23-year-old man from Forfar has appeared in court in connection with the October 13 crash, where two-year-old Harlow died.
The Edwards family, who could not be reached for comment, recently set up a charity, Harlow's Helping Hand, which helps bereaved families pay for funeral and headstone costs.