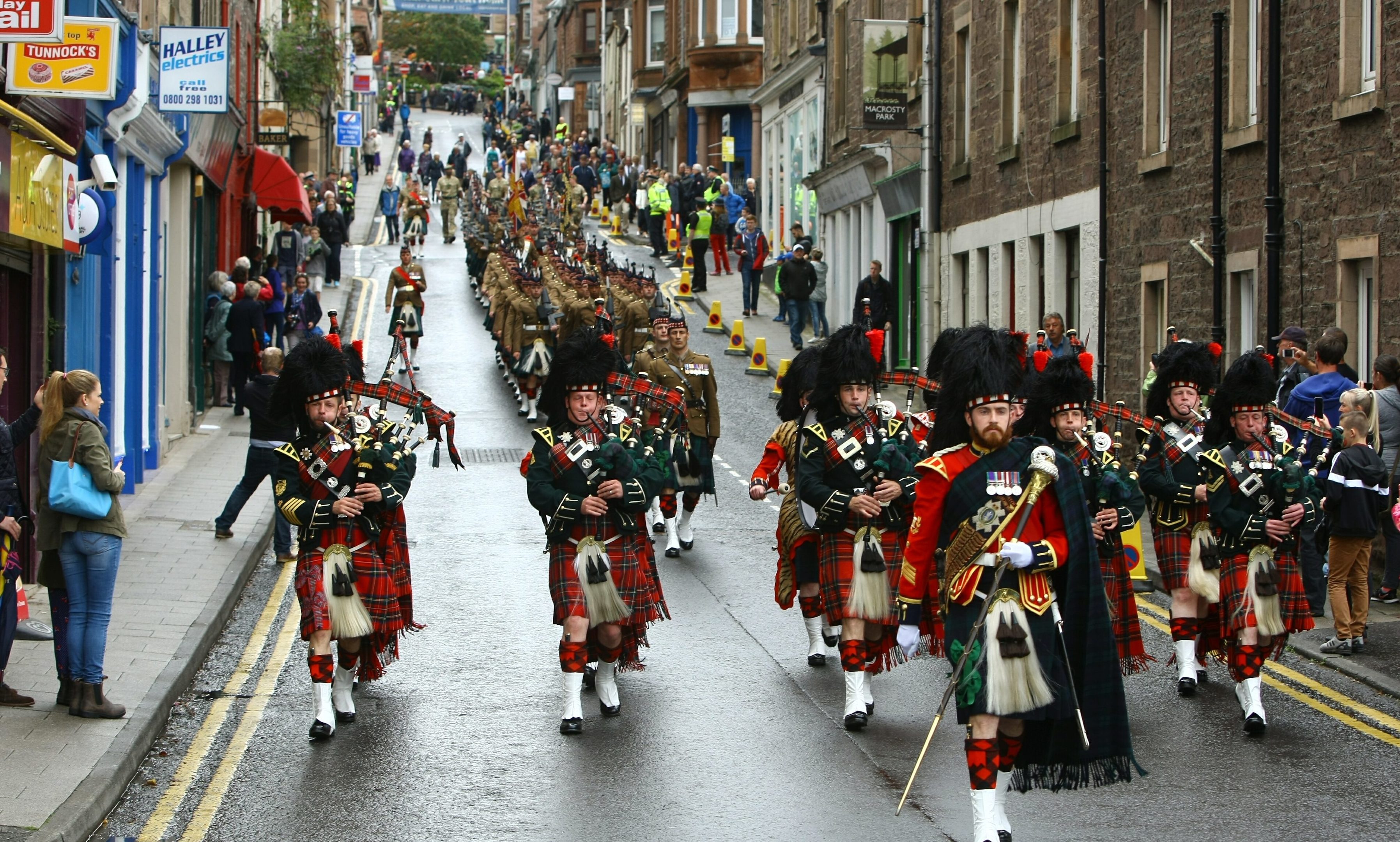 A spectacular military procession has marked the centenary of one of the First World War's darkest chapters.
Troops marched through Crieff, Perthshire, to honour the hundreds of thousands of soldiers killed during the Battle of Passchendaele.
The clash at Ypres, on the Belgian border, has been described as one of the war's greatest disasters and claimed the lives of many Scots.
The parade on Sunday morning, supported by armed forces charity Legion Scotland, marked the start of Crieff Remembers, a series of events to commemorate the men and women – "the fallen, the survivors, their families, wives and sweethearts at home" – who served the country during the Great War.
The area has strong connections to Passchendaele, because many of the soldiers involved were from the Black Watch regiment.
Around 150 veterans marched alongside serving soldiers from the Royal Regiment of Scotland to a wreath-laying ceremony at Crieff's Market Park.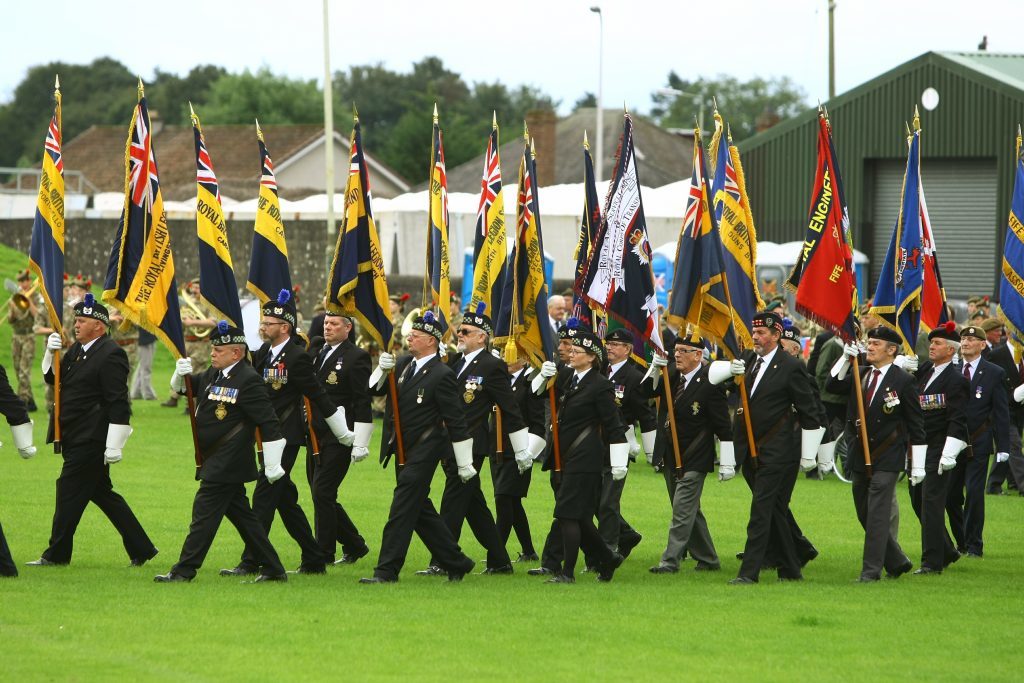 A hardy team of 18 cyclists – from the City of Edinburgh Universities Officers' training corps, Black Watch, Third Battalion, Royal Regiment of Scotland, 51st Highland Volunteers and three support staff – rode from Crieff to Passchendaele and back again, as part of the commemorations.
They returned to Crieff in time for Sunday's parade.
Each day of their 600 mile journey, the team used a war diary from July 1917 to mark what their Black Watch forebears were experiencing 100 years ago.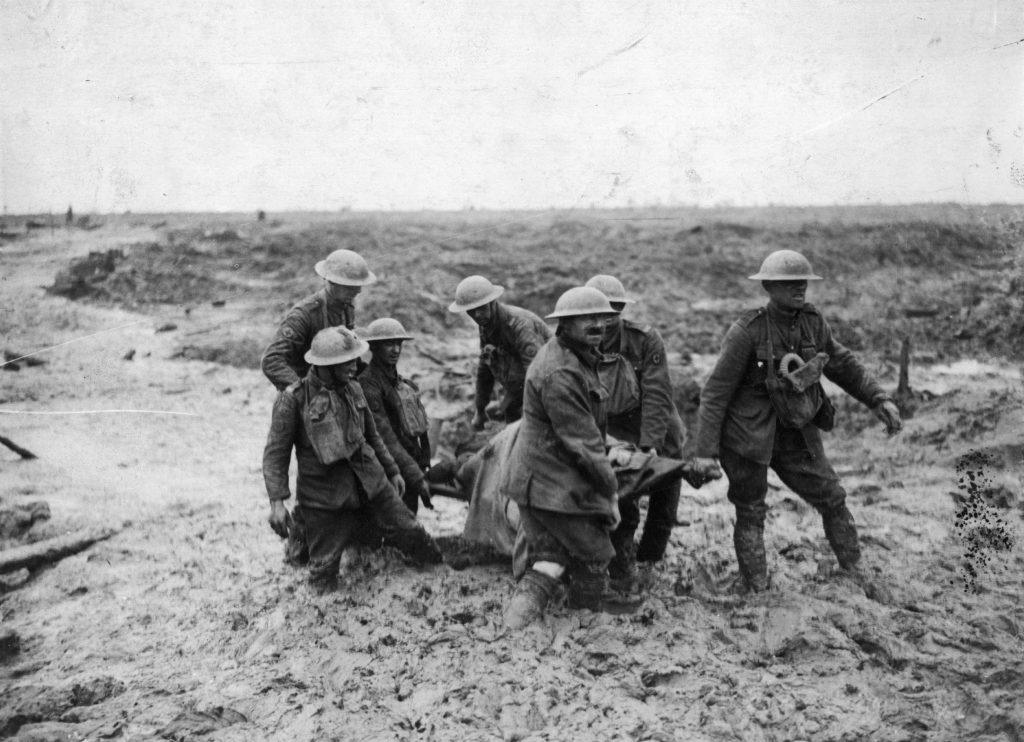 One of the cyclists, Regimental Sergeant Major of the Black Watch, third Battalion, the Royal Regiment of Scotland Kevin Stacey said: "I am deeply proud to come from an army family with my grandfather, uncle and father all having served in the Black Watch.
He said: "It is important that we do this journey on this the centenary of the Battle of Passchendaele, to show our respect to those who fought in the battle – especially to those fallen soldiers and our modern day veterans that have gone before us.
"All have fought hard for our freedoms, with some paying the ultimate sacrifice."
Festivals Crieff chairman Alastair McClymont said: "There's a real buzz about the town at the moment and we are delighted to have Legion Scotland's significant input to the launch of our Crieff Remembers programme."
An exhibition of rare World War I memorabilia, loaned by local families, will be held at the town's Strathearn Artspace.
Meanwhile, about 200 descendants of allied soldiers who died at Passchendaele travelled to Ypres for a ceremony at the Menin Gate Memorial.
Deputy First Minister John Swinney represented the Scottish Government at the commemoration.
He said: "It is vital we continue to remember those brave men who fought in the war meant to end all wars. It is our duty to continue to tell these stories, ensuring each generation understands the human sacrifice made and the irreversible changes that still inform life today.
"Only by reflecting on these human tragedies from our past do we give ourselves the best chance of never repeating them in our future."