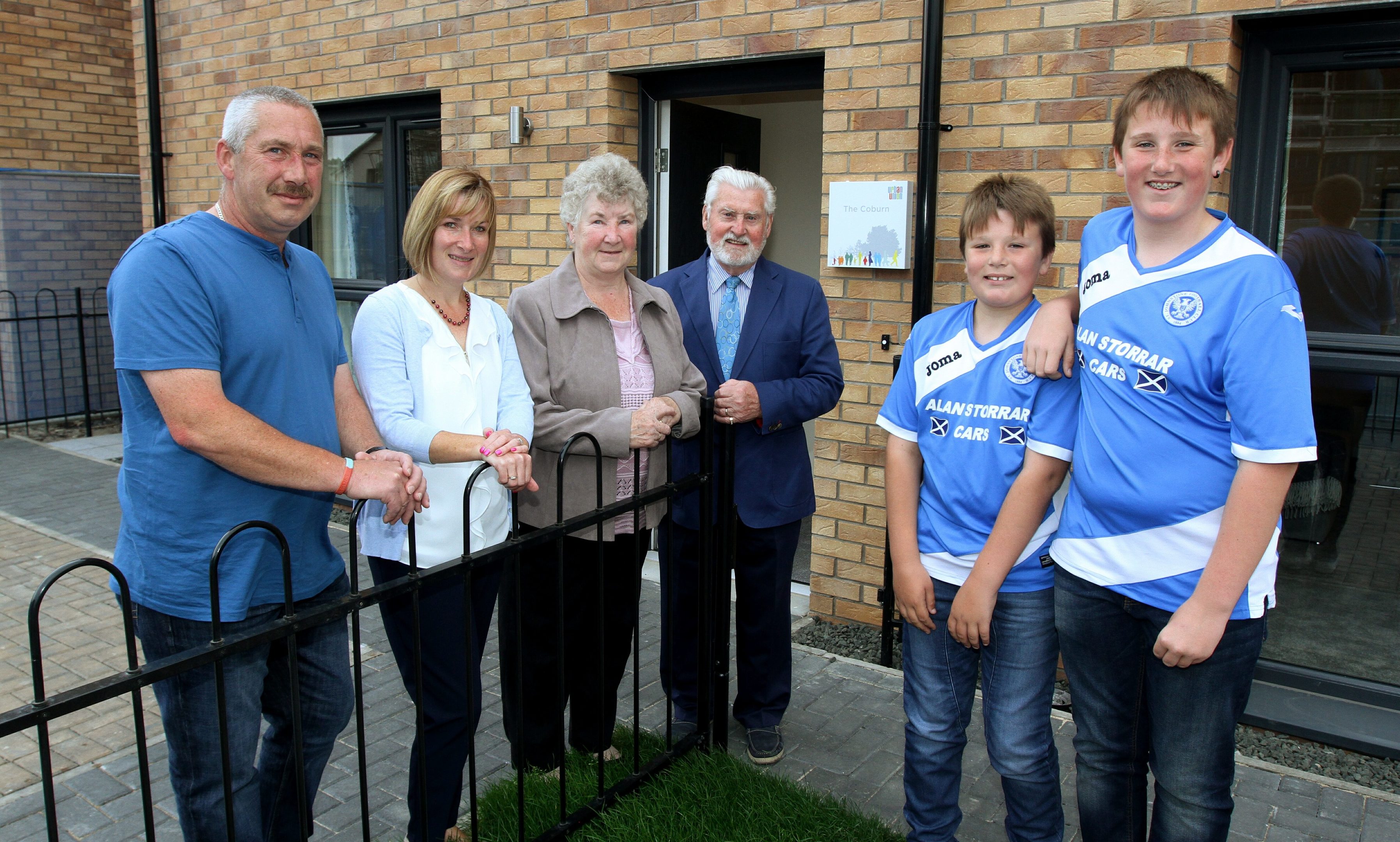 A football legend has received a bricks-and-mortar memorial at the heart of a £40 million regeneration scheme.
A lasting tribute to St Johnstone ace Willie Coburn has been created on the new Perth estate, near the scene of some of his greatest victories.
Developers Urban Union are transforming a once blighted housing scheme, creating more than 200 new homes on land near Saints' original home, Muirton Park.
The firm has unveiled The Coburn, a type of three-bedroom villa which features heavily on the site.
A competition was held to find a suitable local name for the properties and Willie Coburn, who died aged 74 in 2015, emerged as the clear winner.
The other 11 house types have been named after St Johnstone players and a manager.
Three generations of Willie's family, including wife Jean, his son Ian, daughter Lorraine and his grandchildren, were invited for a tour of the new property on Friday morning.
Lorraine, 49, said: "When I found out about the competition I made sure to spread the word far and wide to try and make sure at least one of the houses would carry dad's name.
"It's just lovely to think that so many people nominated him and they still love and remember him. It's just a part of him that's here which is so significant considering the years he spent playing football at Muirton Park.
"For us as a family, it's wonderful that his memory lives on."
She added: "He used to say that he'd love for a street to be named after him when he passed away, so even though he's not got a street I'm delighted he's now got a house in his honour."
Brother Jack, a former councillor who also played for St Johnstone, added: "This is a fabulous way to celebrate Willie and I'm so proud of all the work Lorraine has done to help get his name remembered in this way."
Willie, who was a member of St Johnstone's Hall of Fame, made 324 appearances over 10 years for his local team after signing for Bobby Brown in 1962.
He is fifth in the club's all-time appearance list, scoring 15 goals.
He left to join Forfar Athletic in 1972.
Latterly, Willie enjoyed a part-time role at McDiarmid, looking after the all-weather pitch facilities.
Urban Union managing director Neil McKay said: "The Corburns are an important family in this area and we're so pleased to be able to honour Willie in this way."
Work began on the final phase of the Muirton redevelopment project earlier this year.
Of the 203 new homes being created, 102 will be affordable.
Urban Union has been working with Caledonia Housing Association and the Fairfield Housing Co-operative on the project, which is due to be completed before the end of the year.