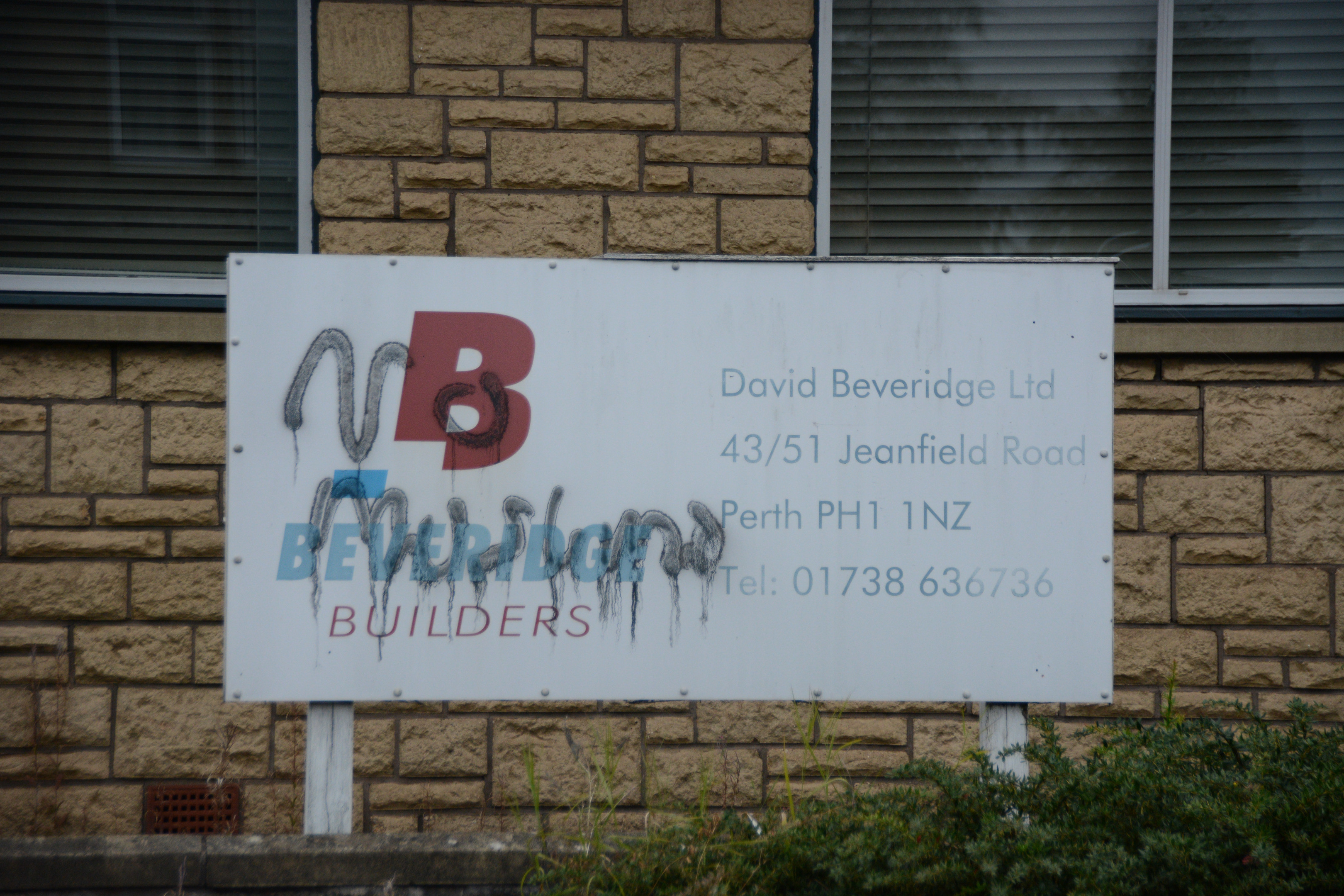 Police are hunting racist vandals who attacked the site of a new Perth mosque.
Anti-Muslim graffiti has appeared at the city's Jeanfield Road on land earmarked for a £1 million place of worship.
The development was at the centre of a political row, when the far right Scottish Defence League organised a protest in the city centre. The extremist group claimed it was rallying against concerns about limited parking near the mosque.
At the gathering, SDL members were vastly outnumbered by counter-protesters, including members of anti-fascist groups from around Scotland.
Police Scotland is investigating the "No Muslims" graffiti and urged any witnesses to get in touch.
The vandalism has been condemned by local MP Pete Wishart.
He said: "This appalling graffiti is truly disappointing and not at all representative of the fantastic community relations we enjoy in Perth.
"We saw that support and solidarity clearly demonstrated at the recent counter demonstration when the Scottish defence League came to Perth to try and stir up anti-Muslim sentiment."
Mr Wishart said: "Perth's Muslim community have the overwhelming support of the people of Perth and I sincerely hope that this is just a one-off incident.
"We must demonstrate zero tolerance to this type of racist abuse and I hope if anyone has any details about who is responsible that they can come forward."
A force spokeswoman appealed for witnesses. She said: "Police Scotland is carrying out enquiries into the matter and we would appeal to anyone who knows who is responsible for the vandalism to come forward."
She added: "We are committed to ensuring that all our communities are safe and feel protected and all reports of hate crime are robustly investigated.
"No one should feel victimised or marginalised in a society as a result of hate, intolerance or ignorance."
Chief Superintendent Paul Anderson, who coordinated the police response to the September 10 protests, told councillors that the day was largely trouble free, with just one arrest.
Addressing Perth and Kinross Council's housing and communities committee, Mr Anderson said there were 72 members representing the Scottish Defence League.
"There was a significant counter protest with about 500 people in the immediate area and another group, just a short distance away on South Street, of about 130 to 150 people," he said.
"It was a significant Police Scotland-led operation, with officers brought in from around the country.
"There was minimal disruption to the city and one arrest one. There were no significant offences or injuries."
Mr Anderson said: "At the end of the day, the people's right to protest was upheld. The Scottish Defence League attended the city and then left in the quickest possible time."