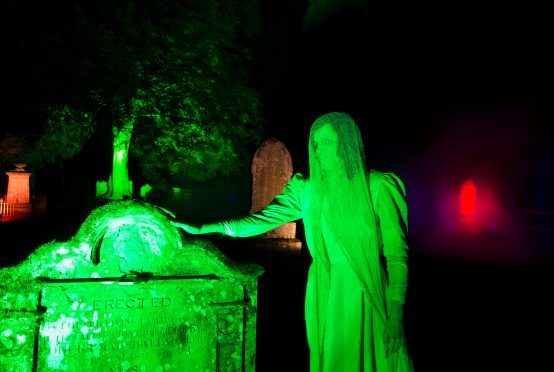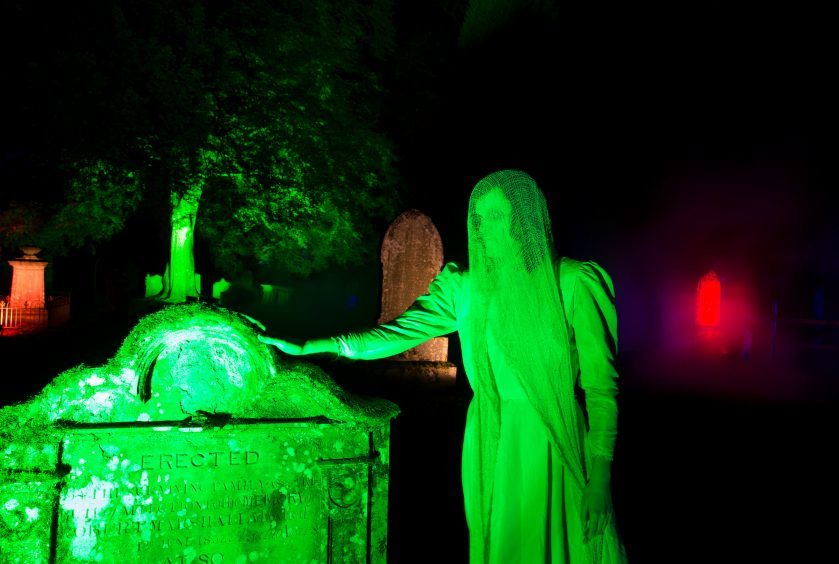 Earlier this month The Courier and Scone Palace set our young readers a challenge — give us a fright!
Run to mark the launch of the palace's Spirits of Scone event, we asked budding writers to send us their scariest stories for Halloween.
Young Perthshire writers Fraser MacCuish, 10, and Olivia Pankhurst, 11, were named joint winners for, respectively, The Cave of Horrors and Outside.
Their prize includes a family ticket to Scone Palace's Spirits of Scone event, launching tonight, a season ticket to the palace and publication on our website (see below).
The winning writers will also read out their stories as part of the six-night event, which runs from October 26 to October 31.
Fraser is from Coupar Angus and is a pupil at Kettins Primary School. Olivia is from Scone and attends Robert Douglas Memorial School.
Margo Baird, marketing manager for Scone Palace, said: "Huge congratulations to Fraser and Olivia for winning the competition. Their stories stood out to us for being so imaginative, not to mention giving us chills! We found it really hard to choose between the two, so decided both should be declared winners. The competition has been a fun way for local kids to get into the spirit of Halloween, and our Spirits of Scone event."
---

Outside, by Olivia Pankhurst
I am peaceful. Sleeping. But my slumber has been broken by the sound of something outside. Outside, where the cold wind lingers and flows through your hair. The only thing I can see is pure darkness. Nothing but black. As black as coal. I reach to turn on my light so I can see. The light flickers violently, As if brightness and darkness were at war, darkness winning. I lift myself out of bed and put my bare feet on the floor so cold it may as well be an ice block.
Slowly, I walk forward touching everything and identifying it. I looked out the window and saw someone or something strange. I don't know what it was or why it was there. At first I assumed I was dreaming, but I know when I am dreaming like the back of my hand. I thought of what it looked like: Its skin was like a grave. Yes, a grave. That is what I called it.
As fast as lightning, Grave looked at me with its cold, beast-like eyes. If looks could kill, I'd be out like a light. I ducked down and snatched my flashlight from my desk. I bolted for the door not thinking, quickly switching my flashlight on. I was running so fast I felt as though my feet were on fire, going deeper and deeper into the woods. BANG! Grave standing right in front of me. Like never before, fear ran through me like electricity. I'm on the run again, not looking back.
I looked straight in front of me. There he was. Again. I looked at his savage, fierce eyes.
I guess looks can kill.

The Cave of Horror, by Fraser MacCuish
There was a little boy named Tom who lived in a tall house with a big garden in Scone. He liked to have play fights with his friends. They used conker tipped arrows in their bows and acorns in their slingshots. They also liked fencing with wooden daggers. One day Tom went out to play and found his four friends at their usual meeting place with all their play weapons. The gang of friends had a play fight and Lee got knocked down. As he rose to his feet he saw a cave entrance covered in vines…
The friends all excitedly agreed to explore the cave. The deeper they went in, the darker it got. They felt a haunting invisible presence. Then Gavin tripped on a concealed pressure plate disguised as a stone. Five skeleton warriors fell from the roof. They captured Gavin. Then Tom, Amelia and Lee lined up their bows and fired. One shot punctured a skeleton's skull, another hit a skeleton warrior's neck reducing them both to a pile of bones. Three skeleton warriors remained undead holding Gavin as a hostage. Carrying their captive, they started running towards a wall. The wall opened up and the skeletons ran inside. Tom, Lee and Amelia were not afraid and pursued the skeletons into the wall before it closed. Oliver and Emily didn't make it so they found their way out of the cave and went home. The chase began. The three friends found themselves chasing the old, fragile, rickety skeletons along a tunnel. Then suddenly Amelia threw her dagger and it hit a skeleton in the leg, the monster came crashing down and the bones flew everywhere.
The friends hurried along the tunnel towards daylight. The next thing they knew, they were in the Murray star maze, except it had been EVILISED by the undead. Scone Palace had also been EVILISED. Lee stood on a stone and it sank into the ground. All exits were closed off and the walls of the maze began to move in. For a second Tom thought there was no way to survive but then an idea rose to the surface of his brain. He could wedge an arrow into the side of one of the walls. He did it, and then the walls moved back and exits opened again. The children ran out and they soon caught up with the escaping skeletons. Amelia threw another dagger and it split a skeleton's skull in half and knocked the others head off. Gavin released himself from the dead skeleton's bony arms and got back on his feet. Then a rumbling noise shook the earth. A crack appeared in the ground and the skeleton's leader crawled out of the earth. The friends trembled in horror, but Tom thought quickly and shot an acorn into his mouth. Somehow everything returned to normal. The skeletons turned to dust and were blown away on the wind.