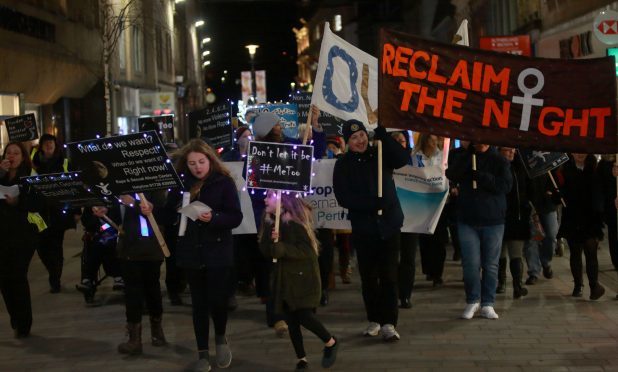 Scores of demonstrators took to the streets of Perth to highlight the horrifying impact of domestic abuse and sexual violence.
Protesters "reclaimed the night" as part of a hard-hitting campaign led by local lifeline support services.
The Perth and Kinross Violence Against Women Partnership held the city centre march to show that nobody should be afraid to walk the streets after dark.
The event, which attracted families from across the region, was inspired by similar demonstrations held during the Yorkshire Ripper's reign of terror  in the 1970s, when women were told not to go out after dark.
The marches came to represent the strong message that women should be free to walk anywhere and should not be blamed or restricted because of the impact of male violence. While the reality remains that women are most at risk from someone they know in their own home, this does not eradicate the risk on the streets.
The walk was held as part of the local partnership's 16 Days of Action to End Violence Against Women and follows a successful inaugural event in 2016.
Local groups including the Perth and Kinross Rape and Sexual Abuse Centre (RASAC), women's lifeline service Owls, Pact, Perth Soroptomists and Perthshire Women's Aid helped put the event together.
Organisers said the march, coupled with successful high profile campaigns such as #MeToo, helped unite people to promote the message that rape and sexual abuse affects everyone.
Rachel Coleman, RASAC P&K support services team leader, said: "Whilst we welcome such powerful campaigns and indications that more survivors are reporting their experience, we are still very aware that sexual violence remains one of the most hidden crimes.
"We want this march to raise awareness that sexual violence is a crime that affects individuals, families and our communities.  We believe that sexual violence has no place in our society and that all women have the right to walk the streets free from fear".
RASAC P&K continue to experience an increase in demand for services, highlighting the need for essential violence against women services.   Last year, the organisation supported 195 survivors and experienced a 39% increase in face to face support.
Lex Greig, who chairs the P&K Violence Against Women Partnership added: "We are thrilled to host this march for another year.  We have welcomed everyone to join us – women, men, young people and families.  It's a child friendly event which we hope will bring us together to make a stand against violence against women and children".
The march set off from Perth and Kinross Council's High Street HQ.
To contact RASAC P&K call 01738 630965.