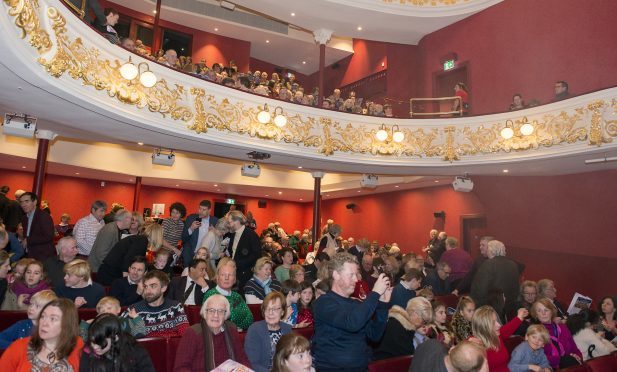 Perth Theatre welcomed its first audience in almost four years at the weekend following its stunning £16.6m refurbishment.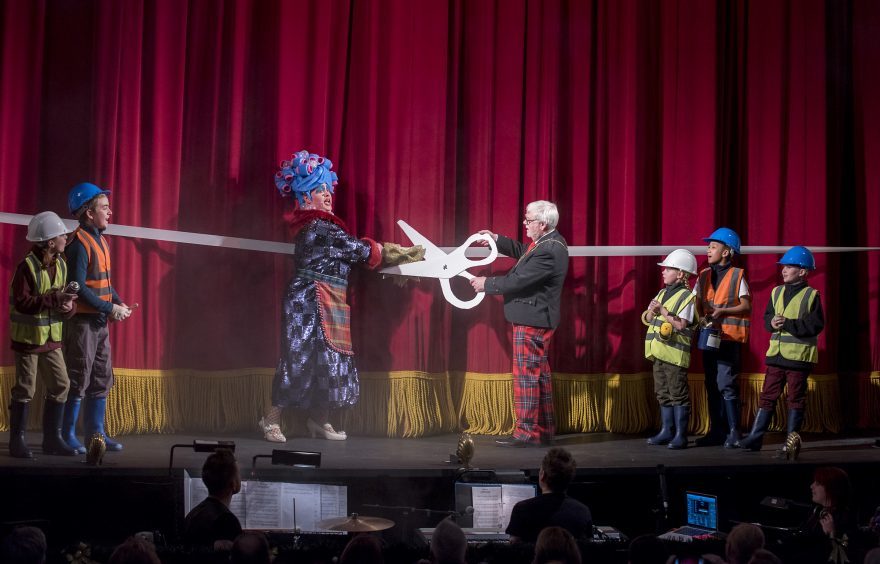 A wonderfully received production of the Christmas pantomime Aladdin returned life to the heart of the beloved old building, now encased in a stunning new body.
The process of rejuvenating the theatre has not been without its ups-and-downs and so it was to be on opening night as a fire alarm forced cast, crew, staff and audience to abandon their seats for a short time.
Outside the theatre, youngsters took the opportunity to grab selfies and secure autographs from the cast.
And as the play resumed, firefighters played their second role of the day — carrying Widow Twankey back on stage to a tremendous round of applause and much laughter.
Within the audience were stars of past years, former theatre members of staff, contributors to the project and local councillors who had earlier heard thanks offered to all those involved.
Horsecross Arts Chairman Magnus Linklater led the celebrations and said: "This has been a ten year project and it has not all been plain sailing.
"There have been many bumps along the way but I cannot tell you how proud I am of what has been achieved.
"I think this theatre has a great contribution to make to Scotland as a whole and will be a place where great work is done.
"I think this is a brilliant building and a great addition to Perth's architectural landscape as well as its cultural life."
Mr Linklater said he hoped to see new audiences pass through the doors in the weeks, months and years to come.
"We want to see younger audiences join us here and becoming passionate about the theatre and that work begins with the opening of our pantomime, Aladdin."
The first performance of Aladdin was also the first show on the Perth stage — and the first pantomime — for its director and the theatre's new artistic director Lu Kemp.
She said: "The panto is a brilliant place for us to start because it is for everyone.
"I want to make sure the theatre is  welcoming to people of all ages."
Guests on opening night spoke passionately about the theatre, its past and its future.
Theatre reviewer Peter Cargill said: "It is great to step back into the place again. It is time that we had our theatre back.
"I am delighted that despite all the changes and improvements they have not changed the auditorium. It is still the Perth Theatre we all know and love."
Local businesswoman Tricia Fox played her own part in the regeneration of the theatre — but is also part of its past.
"I used to work in Perth Theatre, starting at the age of 16 when I became an usher," she said.
"It is great to see it brought back to life. Perth Theatre is hugely important to the city and to theatre nationally.
"More than any theatre I have worked in — and there have been a few — it has a real heart and soul.
"It is a very special place."
Perth and Kinross Council leader Ian Campbell, meanwhile, said: "Perth Theatre is one of the most precious heritage assets in our beautiful city and Horsecross Arts one of the most exciting arts organisations in the UK.
"This project has been about a decade in the realisation and has involved so many dedicated people, all of whom are due great thanks.
"They have shared in common a passion for this project and an absolute determination to see it happen and everyone can be justifiably proud of what has been achieved."
Aladdin continues until January 6. A stunning new programme of works will then begin in the New Year.