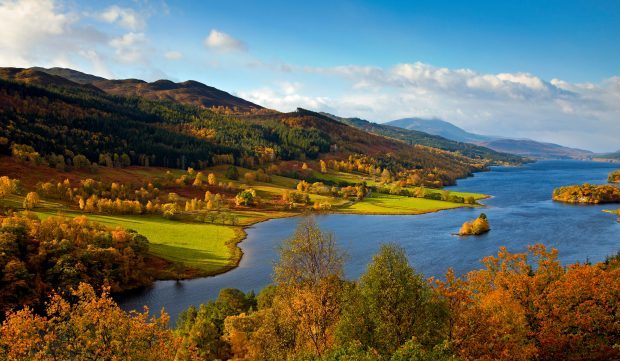 A Highland Perthshire town has been named one the best spots in the UK for love-struck visitors.
Pitlochry came third in a top 10 table compiled by website HolidayLettings.co.uk.
The firm, which is owned by Trip Advisor, analysed ratings and reviews to identify the UK's most romantic towns and villages.
Broadway in the Cotswold's came first with Windermere in Cumbria in second place.
Cupid struck in the picturesque Perthshire town as recently as November, when American couple Terry Warren and Hadley McPherson got engaged at the station bookshop. The rail station is close to the couple's hearts, as Hadley's parents met on its platform 40 years ago.
SNP councillor Mike Williamson, one of the representatives for the Highland ward said he wasn't surprised by Pitlochry's placing.
"I got married at the Pitlochry Dam Visitor Centre and the town has so much to offer," he said.
"I can see why it was voted so highly as it is a lovely place to visit, and very romantic.
"It has the iconic Queen's View and I feel Pitlochry Festival Theatre is an undersold asset for the town."
He continued: "There are various great venues for weddings such as the gardens of Pitlochry Festival Theatre and Pitlochry Dam Visitor Centre.
"It's fantastic news that the town has been voted one of the top romantic spots in the UK and is a good boost for the area."
And independent Highland Councillor Xander McDade, echoed Mr Williamson's sentiments.
He said: "I think it's a well-deserved and unsurprising accolade given that you only have to walk down Atholl Road at any time of the year to see all the couples away on a break.
"There are so many events on all year round such as the New Year's street party, Winter Words Festival, Highland Games and Enchanted Forest to name but a few."
Laurel Greatrix, a spokesperson for Holiday Lettings, said the data confirms Pitlochry as a "unique destination" for romantic getaways.
"The Victorian burgh offers travellers a mix of nature and history, in addition to stunning river and mountain views," she said.
"Rentals in Pitlochry are great for cosy getaways."
Holiday Lettings describes Pitlochry as a "bustling town" that has been "welcoming visitors" for centuries.
"Queen Victoria enjoyed a stay at this picturesque town in 1842 and, over 150 years later, the outstanding scenery and fresh countryside air continues to wow its visitors," Holiday Lettings state.
"Despite still being a small town, Pitlochry is packed with things to see and do. The Main Street is a hive of activity, with its quaint shops and the renowned Pitlochry Festival Theatre, while to the east is Scotland's smallest traditional whisky distillery (Edradour).
"Book a break in Pitlochry to feel the love."