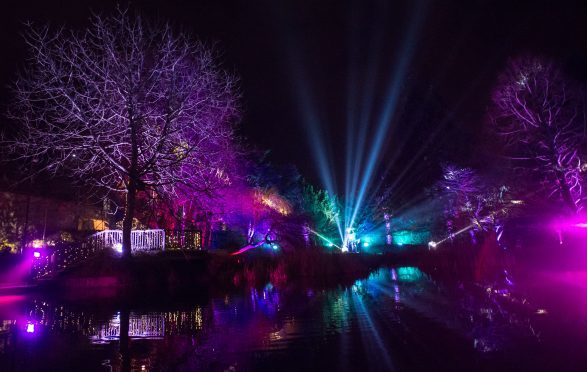 Perth's latest bid to lure visitors to the city is certainly brimming with imagination.
How many events can boast everything from a Mad Hatter's Tea Party to a 1960s Batmobile?
The organisational meeting for the spectacular lights show for Perth must certainly have been more interesting than most council gatherings and demonstrates the authority's ambition to encourage people to visit.
I think even the organisers might have been surprised by the success of last year's first shows – more than 50,000 people were drawn to Perth's waterfront over the two-week run.
As a result no doubt confidence was high as plans were drawn for this year's extravaganza – which started on Saturday January 27 – and it doesn't look likely to disappoint.
Taking place every night up until February 14, the event kicked off in style with a parade across the Queen's Bridge before the first night crowds were entertained with Burns songs, a ceilidh, storytelling and comedy.
In the coming days the show takes on a more surreal edge (cue the Batmobile for the superhero theme on January 30 and 31) while the Queen of Hearts and the white rabbit from Alice in Wonderland will be brought to life next month and a Chinese dragon will help celebrate the Chinese New Year.
Perhaps not to everyone's taste but the attraction will draw tens of thousands of people into Perth – many from outwith the city – and the spin-off benefits are likely to be considerable.
Hopefully local pubs and restaurants will pick up passing trade as a result and shared pictures and videos are likely to be sent around the world, helping to put Perth firmly on the visitor map.
Hard on the heels of the Christmas decorations switch-on when more than 100,000 revellers packed the city centre and plans to light up prominent buildings, the Fair City may well be in the running for a new title as Scotland's city of lights.