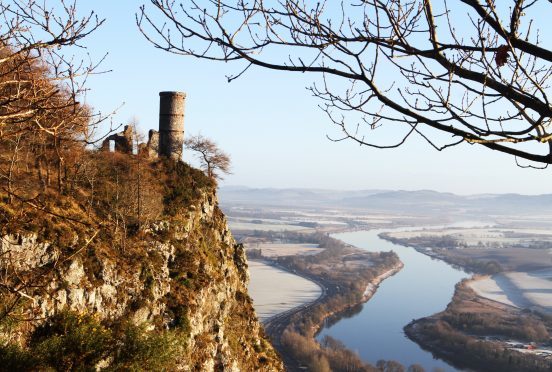 A plan to enhance the visitor experience at one of Perth's most well-known landmarks has caused a storm of protest.
The Tay Landscape Partnership has applied to build three stone plinths with interpretation panels in a semi circle a few feet from the B-listed Kinnoull Tower which overlooks the River Tay from the top of Kinnoull Hill.
The main thrust of the objections is the close proximity of the plinths to the 18th century romantic feature will spoil the visitor experience.
Among the objectors is Mrs Marian Coburn who says: "The location of the signage is extremely poor and will have a huge negative effect on the natural beauty of the tower.
"The proposed location of the signage will devalue the tower's iconic status. The tower is one of the most photographed landmarks of Perth by visitors and locals alike, adding ugly modern signage is wholly inappropriate and vandalism."
In his objection Norman Renfrew of the Kinnoull Hill Woodland Park Group said: "The plinths are an alien feature for a natural landscape. To tell the story of the tower one small plinth is all that's needed, the need to tell a wider history will only make an unsightly and unnecessary clutter, seriously detracting from the beauty of the natural environment."
Council conservation officer Diane Barbary also objected, commenting: "The folly is sited at the top of steep cliffs, and also creates a dramatic viewpoint on the hill looking out over Perth and the Carse of Gowrie.
"The existing flat open grass area to the immediate north of the folly provides space to appreciate these views.
"While more distant views of the structure would not be affected, the immediate setting of what was intended as a romantic architectural addition to a wild, isolated location is likely to be compromised by the over-engineered and visually intrusive structure proposed."
A spokesperson for the Tay Landscape Partnership said the interpretation boards were part of a wider collaboration with various community groups.
"The three new panels not only explain Kinnoull Tower but also help visitors understand the landscape and view beyond it," they said.
"Once Perth and Kinross Council has considered the planning application and given their formal response to the objections, the Partnership will  review our plans accordingly."