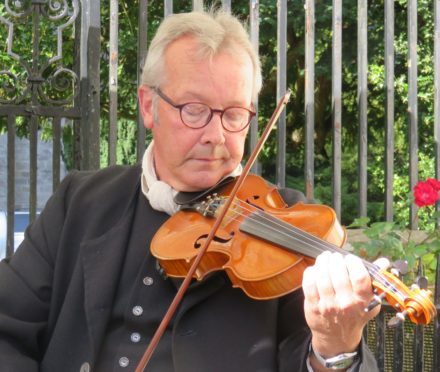 The father of Scottish fiddle music will be celebrated at an annual gathering in Highland Perthshire this weekend.
The 15th annual Niel Gow Festival will take place over the weekend of March 16-18 in Dunkeld and Birnam.
Gow, who lived from 1727 to 1807, was the most famous Scottish fiddler of the 18th Century.
Money raised through the festival will go towards building a memorial to him in Dunkeld, where he lived for part of his life.
A highlight of the programme will be a recital by Pete Clark and Alastair Savage on Saturday morning in Little Dunkeld Church. Perthshire musician Mr Clark will be playing a fiddle which once belonged to Gow and was believed to be his favourite.
Mr Clark said: "The festival is a celebration in music of the life of Niel Gow, regarded by many as the patriarch of the Scottish fiddle tradition. With concerts, workshops and guided walks, there is something for everyone.
"And, as is the case at any festival, the informal and spontaneous music sessions in pubs and hotels often prove to be memorable highlights."
Mr Clark and Pitlochry artist Clare Fernie have painted two original watercolours which will be auctioned to raise funds for the memorial.
The festival will begin with a solo fiddle concert at the Royal Dunkeld Hotel on Friday night.  Performers will include Hannah Fisher, Roo Geddes and Charlie Walden.
A young fiddlers concert, featuring musicians from Strathallan and Ardvreck schools as well as the Junior School of the Royal Conservatoire of Scotland, will take place in the main auditorium of the Birnam Institute on Saturday afternoon.
Saturday night's concert will feature fiddler Paul Anderson, who will be accompanied on guitar by former Runrig member Malcolm Jones.
Gow was born in Strathbraan in 1727 and grew up in the village of Inver, by Dunkeld.
Tickets for all events are available by phoning 01350 727674.