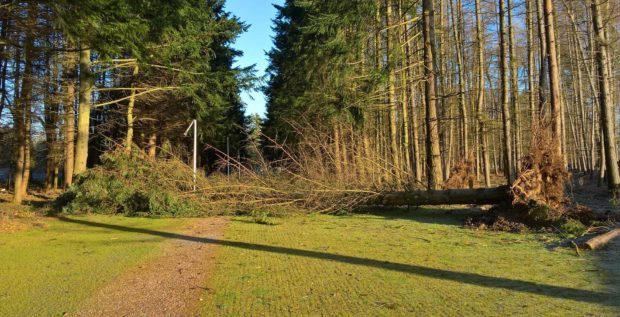 Storm-damaged trees at Perth Crematorium are facing the chop to protect the public.
Council bosses say the larches and Douglas firs near the garden of remembrance will have to be felled for safety reasons.
The work will be carried out between Friday and March 25, as part of the £2.2 million crematorium upgrade.
The trees, at the edge of the grounds, have been affected by "windthrow" — the process by which a tree is blown over at its roots — as a result of recent storms, most notably Storm Eleanor.
The moves comes after 500 trees were removed from the area early last year to make way for a new access road to the crematorium.
The works prompted a public outcry and the local authority ordered a construction firm to put up fencing to protect remaining trees in the area.
A council spokeswoman said everything would be done to limit disruption to neighbouring properties during the upcoming felling.
"In the interests of neighbouring residents and visitors to the crematorium, every effort will be made to keep noise and ground disturbance to a minimum, with any soil disturbed during the works carefully retained and re-spread on site," she said.
"Hoarding has been erected so that the works are not visible to visitors to the crematorium or the gardens of remembrance. Work will also be planned around booked services."
She said the works would focus on groups of larch and Douglas fir at the edge of the crematorium grounds and in the avenue area surrounding the site's overspill car park.
"The trees being removed have been affected by windthrow — due partly to their position becoming more exposed on site, and partly as a result of recent storms, notably Storm Eleanor, that have affected the local area," she added.
"A number of individual trees have previously been removed. However, the larger-scale felling has since become necessary in the interests of public safety."
Councillor Angus Forbes, convenor of Perth and Kinross Council's environment and infrastructure committee, said: "Windthrow was identified from the outset as a risk but we have looked to mitigate this as far as possible through selective thinning of the tree covering.
"However, with instances such as a street light having been brought down by a falling tree, we have to take action now to ensure public safety can be maintained and crematorium staff and visitors are not put at risk."
Perth Crematorium recently re-opened for funeral services after a major overhaul, which has seen the building modernised and re-wired with new heating and lighting systems.
A newreception and office area has been created, along with a private meeting room for bereaved families.