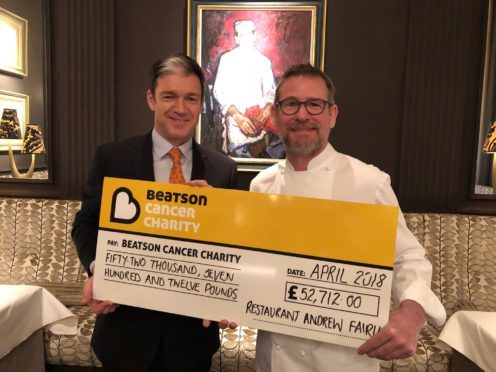 World-renowned chef Andrew Fairlie has raised more than £50,000 to support a new study into how radiotherapy can be used to fight cancer.
The chef, who owns the Michelin-starred Restaurant Andrew Fairlie at Gleneagles Hotel, has spent 10 years living with a brain tumour and decided to raise the money to support the Beatson Cancer Charity-funded Radiotherapy Project.
He and his staff undertook a range of fundraising endeavours, including running an auction for him to cook a meal for the winner in their own home.
They presented a cheque for the £52,712 they raised to the charity this week.
It is hoped the research will significantly increase the ability of radiotherapy treatments to shrink, control and in some cases eradicate cancers.
The project is being led by Professor Anthony Chalmers from the Clinical Oncology Institute of Cancer Sciences and Beatson West of Scotland Cancer Centre and Glasgow University,
Andrew said: "I am very grateful to everyone who has enabled me to raise so much money for the Beatson — our guests at the restaurant, my staff and some very generous friends and donors.
"It's the very least I could do considering the world class treatment and service myself and my family have received from every single person we have come into contact with at the Beatson.
"We are all very lucky in Scotland to have this brilliant organisation and it is something we should support and cherish in whichever way we can."
Cancer remains one of the biggest health challenges in Scotland, and despite recent progress in survival rates, the country still has one of the highest cancer rates in Europe.
Prof Chalmers said: "This extraordinarily generous donation from Andrew Fairlie is a huge boost to our Radiotherapy Research programme at the Beatson.
"As well as providing financial support for a number of key researchers, it is a massive morale boost for the team.
"Andrew is a truly inspiring person in many ways: as a patient, as a hugely successful chef, and as a supporter of our research.
"This donation will accelerate our efforts to improve survival and quality of life in patients whose cancers are difficult to treat. We will do this by developing and testing new radiotherapy technologies and combining them with new, targeted drugs."
Beatson Cancer Charity chief executive Graham Soutar added: "I meet patients and their families every day and witness their bravery and determination as they take on their cancer journey.
"It's those people that motivate Beatson Cancer Charity to continue working hard to provide patients and their families with the best care and support, at one of the most difficult times in their lives.
"One of the ways we do that is through funding key research. The importance of research cannot be underestimated, and this project will go a long way in making a difference to patient outcomes and helping more people survive cancer.
"Beatson Cancer Charity is so grateful to Andrew and his team for their support of the Radiotherapy Research Project. We are overwhelmed by the outstanding contribution they have made – from organising events to staff fundraising, and Andrew's personal donation of a special auction prize to cook in the winner's home.
"This money is helping fund an incredible project that will have a significant impact on survival rates and quality of life for cancer patients."