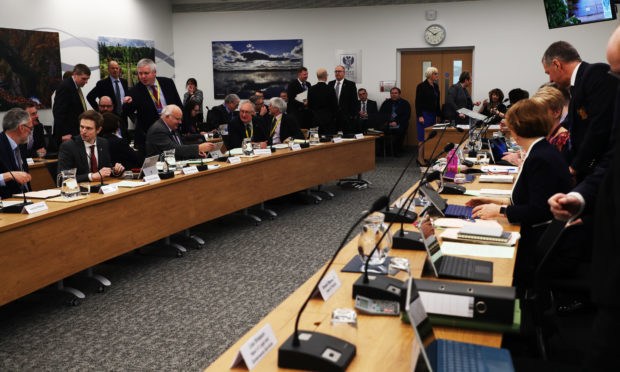 A political flare-up has fractured Perth and Kinross Council's coalition leadership.
Independent councillors have sensationally quit the Tory-led administration, over what they claim was a lack of respect shown by other members of the top tier.
Mike Barnacle, Xander McDade and Rhona Brock will now form a new group with sole Labour councillor Alisdair Bailey.
They are demanding a proportional share at each committee, and have threatened legal action to secure it.
The shock move follows heated scenes at last week's full council meeting, when Mr McDade – the authority's youngest-ever councillor – was controversially voted off two committees, to make way for newly-elected Conservative councillor John Duff. The move was described by Mr McDade as "an affront to democracy".
The administration, under council leader Murray Lyle, now finds itself in a more precarious voting position, with its majority slashed from 10 to two.
The new group will not have a leader but each of the four members will be appointed spokespersons for specific policies. They intend to put forward their own budget strategy in the summer.
Mr Barnacle, who quit as a Liberal Democrat councillor in 2008, said: "My experience with partnership administrations encompassing more than two political groups is that they are difficult to sustain.
"Last week's council meeting encapsulated my concerns about the independent group's situation and the need for clarity."
In a joint letter to Mr Lyle, sent on Friday, the councillors state: "We would hope to work constructively with your Conservative/Liberal Democrat administration and not make life difficult for you, unless you make life difficult for us."
It continues: "In our view, it is unfortunate how the partnership approach set out after the election by our late colleague Ian Campbell has not been sustained and that this letter is necessary. We are agreed that no other course of action is possible."
Mr McDade said: "The new Independent and Scottish Labour group will sit in opposition, but will continue to work proactively with other political groups to achieve its aims."
Mr McDade, who will be the group's spokesman for education, health and local democracy, added: "I look forward to continuing my work on these issues on behalf of the group, whilst continuing to strongly represent my constituents' interests."
Ms Brock said the new group would enable councillors to "pursue our individual and collective policy aims" while still representing constituents.
Mr Bailey welcomed the new partnership, which he said would hold both administration and opposition to account.
"Since my election, I have discovered that the larger parties assume far too much about what residents want and failing to listen to what they really want from a council in 2018 and beyond," he said.