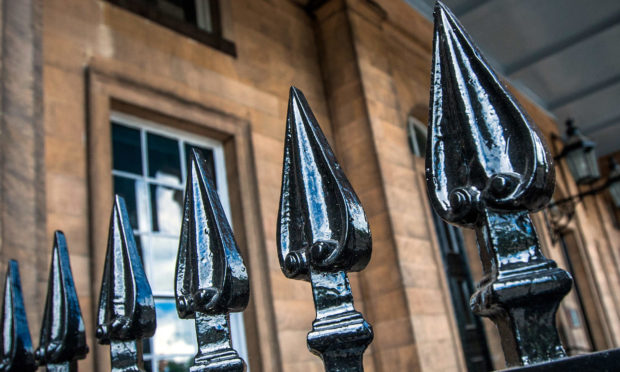 A proceeds-of-crime court case against a Perthshire businessman who defrauded the tax authorities of almost £175,000 was put off again on Monday to allow him time to speak to his newly-appointed advocate.
Perth Sheriff Court heard that Stuart Newing-Davis, 48, now has legal representation but he personally asked Sheriff William Wood if he would allow some time for him to discuss matters.
The Crown and Her Majesty's Revenue and Customs (HMRC) are pursuing Newing-Davis in a bid to recoup some of the money owed by him. This has involved looking into his assets, which include a home he owns in France.
Newing-Davis was sentenced to 32 months in jail in June last year. He admitted fraudently evading VAT totalling £174,179.3 while working as a director of Trainpeople.co.uk between March 3, 2010 and June 7, 2011.
The court had heard how Newing-Davis, formerly of Bankfoot, repeatedly falsified accounts of his recruitment and training firm, Trainpeople.co.uk. to help another business he owned – Ptarmigan Transport Solutions. Trainpeople.co.uk supplied trained staff to work in the rail industry.
He was eventually caught by HMRC employees but had initially tried to blame accountants and book-keepers for the VAT fraud. At that time, Newing-Davis had claimed market forces had put pressure on his businesses, leading to him getting involved in tax evasion.
On Monday, Newing-Davis asked for the proceeds-of-crime action to be postponed again, to allow time for him to have discussions with his legal advocate.
Sheriff William Wood told the court: "The main thing here is to get this action started – it's a priority."
The sheriff had previously warned Newing-Davis that the proceeds-of-crime action had to go ahead, and would need to be take place "timeously."
A spokesperson for The Crown said they wouldn't comment on the legal action against Newing-Davis being delayed4 to give Mr Newing-Davis more time," she said.
A pre-proof hearing will be heard on May 15, with the actual proceeds-of-crime action will take place for July 5 at Perth Sheriff Court.