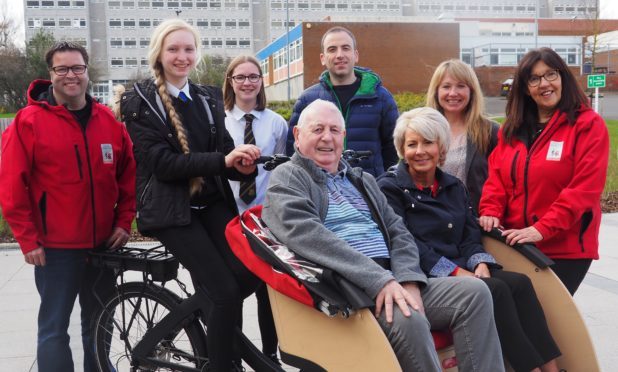 A new cycling initiative which will see rickshaw-style bikes on the streets of Perth has been launched by a local pensioner.
Former Salvation Army officer Norman Riddley has teamed up with his local school and council for a project which he hopes will get older people back in the saddle.
The Cycling Without Age campaign will offer elderly people who have limited mobility trips out on trishaws, cycled by volunteers.
The idea was developed in Denmark and has since been successfully launched in countries such as New Zealand and Chile.
The local project, set up by Mr Riddley with support from Perth High School and Perth and Kinross Council, follows the first Scottish scheme introduced in Falkirk two years ago.
Mr Ridley, 81, said: "I got involved with Cycling Without Age after seeing a newspaper advert.
"Pupils at the school had suggested it as a project for the Duke of Edinburgh Awards."
He continued: "I thought it was a fantastic idea, allowing older people the chance to get out and about and see the area.
"The trishaws are ridden by volunteers who have given up their time to get older people out and discovering the area's beauty spots."
Mr Ridley added: "We went down to see it all in action in Falkirk and it has been a great success. Hopefully it will take off the same way in Perth."
The Fair City trishaw has already been taken out for a test run. Provost Dennis Melloy used it at the weekend to deliver a telegram to a local centenarian.
"I think he was pretty impressed with it all," said Mr Riddley.
"We only have one bike just now, but there is definitely a need for a few more.
"Giving older people the opportunity to enjoy the fresh air and take in the views at areas such as North Inch can really make a difference to their wellbeing.
"Those who would like to get involved can volunteer a little of their time to help get older members of the community out and enjoying beautiful Perth."
Christine Bell, executive officer at Cycling Without Age Scotland, said the Perth scheme was an "example of a mutually beneficial inter-generational partnership."
She said: "Coming together like this will have benefits on so many levels. The tenants will experience the thrill of getting out in the great outdoors, feeling the wind in their hair and accessing parts of the local area they may not have seen in a long time, while the pupils and trishaw pilots learn about the rich history of the area from people who experienced it first hand."