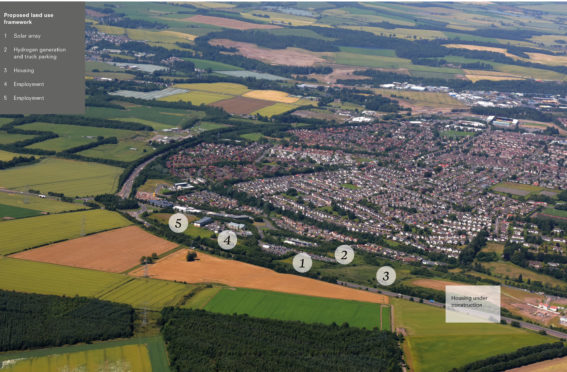 A £1.5 million plan has been lodged to build a low carbon transport hub on the outskirts of Perth.
Believed to be the first wave of such projects in Scotland, the ambitious proposal will also provide an electric vehicle charging point and a dedicated parking are for trucks at the site, which will be located beside Broxden Park and Ride if given the green light.
The plan has been submitted to Perth and Kinross Council by the John Dewar Lamberkin Trust and Craigrossie Properties, with the developers claiming it will position Perth as a "leading" Scottish city in delivering infrastructure for integrated renewable energy and smart city technology.
As part of the overall development of the area, a complementary planning application has been lodged by Bellway Homes to complete its housing project off Glasgow Road with another 48 homes on the site.
A spokesperson for the project said: "The Broxden low carbon transport hub project will create this innovative facility on the outskirts of Perth at the Broxden Park and Ride.
"The project includes the introduction of a hydrogen refuelling station, the expansion of existing electric vehicle charge points and the facility will be solar powered.
"The aim of the project is to broaden the range of refuelling facilities and transport modes available and to provide sustainable travel options to local residents, businesses and visitors to the region. We also hope to attract investment into the area."
He continued: "The facility will trial hydrogen energy and will form part of the Broxden fuel station. Capacity has also been made for dedicated truck parking within the station, along with localised improvements to the road and signage network, to enhance the amenity of customers and residents."
If passed by the council, the Perth facility will be eligible to receive financial support from the European Regional Development Fund (ERDF).
Humza Yousaf, the Scottish Government's Minister for Transport and the Islands, has given his backing for low carbon transport hubs.
He said: "By creating hubs that will also provide the facilities to support the uptake of low emission vehicles, such as electric vehicle charging points and hydrogen refuelling stations, this will lead to improvements in air quality and contribute towards our ambitious greenhouse gas targets."