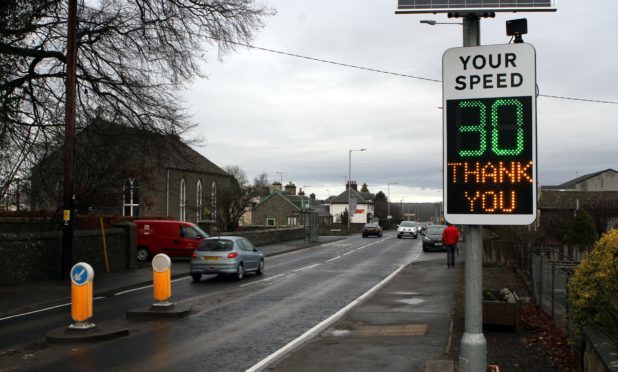 In the week that Perth and Kinross Council was taking pelters for its Biggest Weekend traffic plan, the local authority agreed another roads initiative which didn't get nearly as much attention – but definitely deserves our praise.
On Wednesday, councillors approved the installation of more than 40 new electronic safety signs across the region.
Activated by oncoming vehicles, they flash up drivers' speeds for all to see.
Around 30 of these signs – including courteous ones which thank drivers for sticking to the limit – have been popping up around the region over the last few months, following requests from communities.
The new signs will be rolled out at cost of £150,000 over the next two years.
What's great about these solar-powered roadsigns is that – unlike some measures – they actually work. And they work because of a clever psychological trick.
The radical traffic calming initiative was first tested in California about 15 years ago.
Signs which showed drivers their speeds were installed as an experiment at schools around Garden Grove in Orange County.
Locals said drivers had been repeatedly ignoring normal speed signs and hitting cyclists and pedestrians at an alarming rate.
Local journalist Thomas Goetz, who covered the launch, wrote that the new electronic signs "didn't tell drivers anything they didn't already know – there is after all, a speedometer in every car".
It didn't make sense to local decision-makers across America and no towns were placing orders. Eventually, inventor Scott Kelley started sending out free samples and soon communities began to see for themselves how effective they were, with motorists slowing down by an average of about 14%
As recounted by author Jon Ronson in his book So You've Been Publicly Shamed, the signs create "feedback loops" – drivers get instant feedback about their driving and they are given an instant choice about whether or not to change their behaviour.
And if you do lower your speed, you are treated to a thank you or a smiley face emoticon.
Goetz said these feedback loops were a "profoundly effective tool for changing behaviour."
So it's all just a mind game, but it's a good one. And for now, its one of the best tools we have to cut the tragic tally of accidents on our roads.