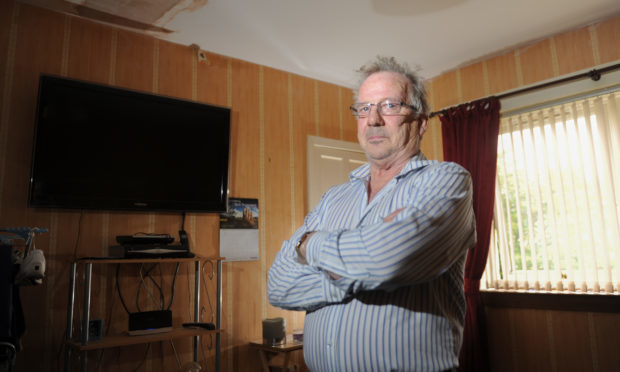 A Perthshire couple have been battling housing bosses for a year over repairs to their home.
Sheila and Robert Young, from Alyth, filed a complaint to Perth and Kinross council last August after their ceiling collapsed.
The authority made a temporary fix that was supposed to be fully mended after Christmas.
However, the pensioners say damp has now damaged their home, causing serious concern for 72-year-old Mr Young, who suffers from the lung condition Chronic Obstructive Pulmonary Disease (COPD).
They say the water has wrecked their furniture, leaving them no option but to replace it and sending their home insurance premiums soaring.
Mrs Young, 64, said: "I reported the collapse to the council in August and they came out and put up a temporary ceiling.
"I didn't hear back from them until after Christmas when they came out and finished the job.
"My son is a tradesman and he noticed a lot of things that were wrong with it.
"The council took the chimney out to try and fix the ceiling but it didn't help the dampness and it has completely destroyed my walls and my couches.
"Even though the ceiling was partially fixed, the damp still got through and ruined it all.
"I tried to go through the council insurance as they wouldn't own up to their mistake but I was unsuccessful.
"My husband has COPD and the damage does not help his lungs.
"It's upsetting and so frustrating because I now don't have anything on my walls.
"I used to have lots of pictures of my grandchildren and family who served in the war, but my living room is just bare now and I can't enjoy my space."
The couple are now calling on the council to reimburse them for their increase in insurance.
A Perth and Kinross Council spokesman said: "We can confirm that repairs have been carried out previously at this address.
"With the exception of internal decoration, which is a tenant's responsibility, we would not ask tenants to arrange or pay for repairs to their homes.
"We had already been in contact with our tenant earlier this week and have arranged to meet them to discuss their concerns."