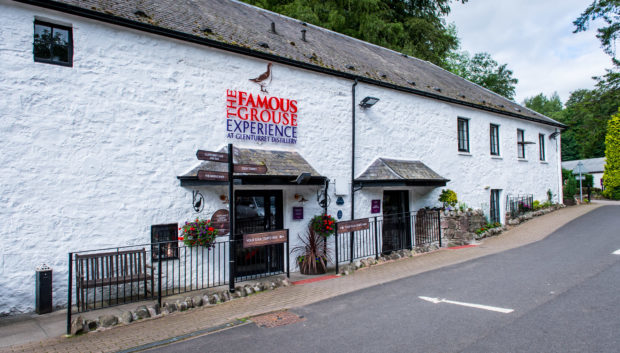 The future of a historic Perthshire distillery – and the staff employed there – looks likely to be safe as the sale of the tourist attraction is "progressing well".
Glenturret Distillery in Crieff, home to the Famous Grouse Experience, was put on the market by current owners the Edrington Group early in the summer and concerns were raised about the future of the 250-year-old landmark, as well as the 31 people who work there.
However, it has now emerged that a number of potential buyers have been in touch and the current owners are confident that all of the employees will be transferred when a new company takes the helm.
A spokesman for Edrington said: "We announced in June that we were looking for buyers for the distillery, as part of our greater focus and investment to support the long-term growth of our portfolio.
"The sale process is progressing well and we believe that Glenturret will thrive under new ownership, where it will be a high priority for investment.
"We are consulting with staff about the process and anticipate that all 31 employees will transfer to a new owner."
The comments came after a visit to the distillery by Perthshire South and Kinross-shire MSP Roseanna Cunningham, who welcomed the positivity.
"There is absolutely no doubt that news about the sale of Glenturret and the consequent departure of the Famous Grouse Experience from Crieff came as a bit of a shock for many in this area," she said.
"Glenturret has forged strong relationships over the years with other local businesses – their baked goods are supplied by Campbell's Bakery and they recently switched to sourcing all fruit and vegetables from the Handy Shop in Crieff.
"It is important to me that those relationships continue and grow and that the success of Glenturret is shared throughout the Strathearn economy in as many ways as possible."
Ms Cunningham hopes the rich history of the distillery will be sufficient to protect its future, even without the Famous Grouse brand.
She added: "As the oldest working malt whisky distillery in Scotland, with distinctive aspects to its production process, Glenturret has a number of unique selling points which are important within the competitive malt whisky market.
"It is important to note, of course, that the association with Famous Grouse and Edrington only plays a small part of Glenturret's 250-year history and the distillery itself will continue to be a significant magnet attraction for visitors coming in to the area.
"I am certain that, with or without the Famous Grouse Experience, both the brand and distillery associated with Glenturret would be an extremely attractive proposition for any buyer."