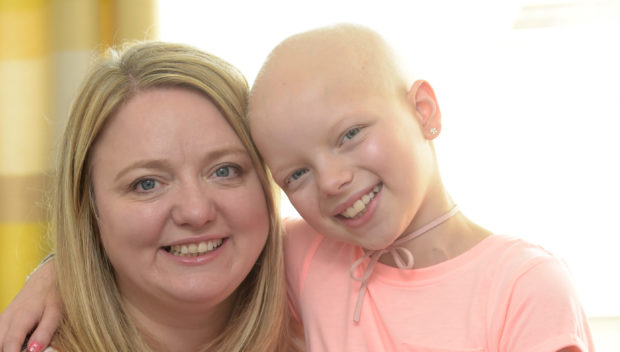 A Perth youngster has officially marked the end of her cancer treatment more than a year since being diagnosed with a rare condition.
Lily Douglas, 10, has battled stage-four Ewing's Sarcoma, but her latest scans have revealed she is cancer free.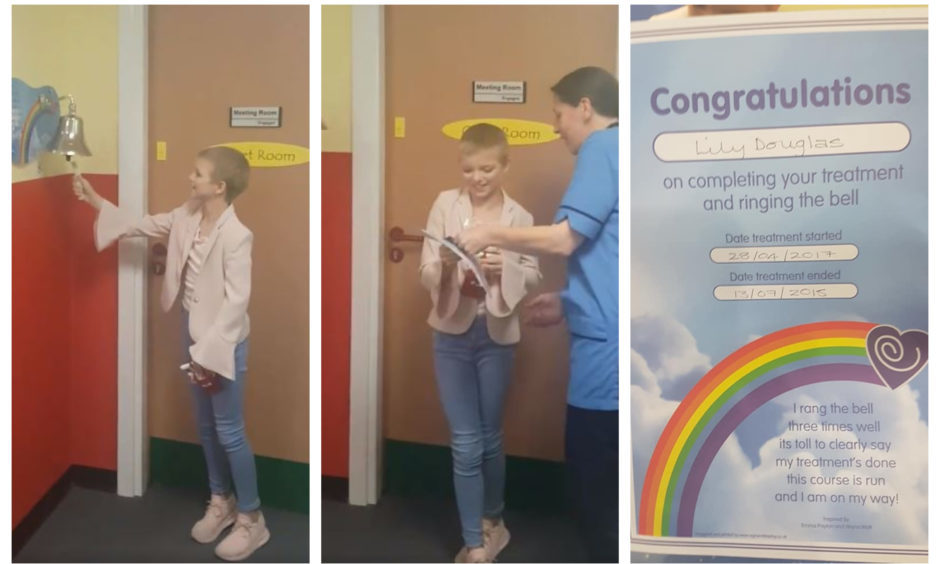 On Monday her mum Jane Douglas shared a video and photos of the young dancer ringing the end-of-treatment bell at Ninewells Hospital, 493 days after her diagnosis.
She told The Courier: "We are ecstatic. When she was first diagnosed we never thought we'd get to this point, it was so grim, but she has done it!"
Lily's grandparents Mary and David Douglas joined her for the momentous occasion, reached after 14 rounds of chemotherapy, nine operations, proton beam therapy in the US and fighting off seven infections.
Jane praised the way her "incredible" daughter had faced her diagnosis and treatment.
She said: "I don't think I would have coped as well. She is amazing, she never complained and she rarely took a painkiller.
Smiles as Perth youngster Lily rings 'end of treatment' bell following cancer battle
"After having rounds of chemotherapy it didn't matter how sick or tired she felt she still went to her dance class, she never missed it once."
Jane told how the family strived to remain positive and how the support of friends, family and the public, who would often cheer them up with gifts and generous gestures, had helped them during Lily's illness.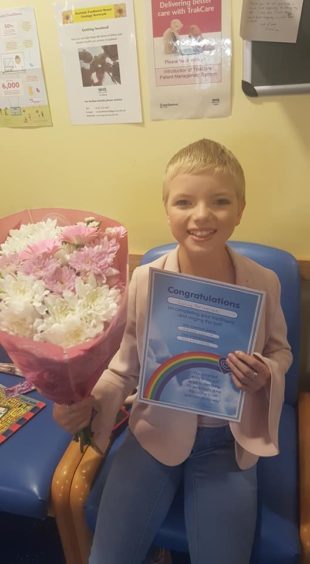 She said: "We focused on the good times rather than the bad and that's what got us through.
"It was hard but with everyone's support we didn't feel down for long.
"We focused on one round of chemotherapy at a time and every time she got through a round we did something to celebrate."
Next month Lily will mark her 11th birthday swimming with dolphins during a trip to Orlando with her mum and brother Leon Christie to celebrate being cancer-free, gifted by Kenny McLeod, of Dundee, and his friends.
Lily is back at St John's RC Primary School and despite damage to her leg muscles continues to dance, having already garnered 90 trophies and 200 medals in ballet, tap, street and modern dance.
In July Lily took centre stage as she performed a poignant ballet sequence at the Cancer Research UK Kids and Teens Star Awards party in London.
She joined 20 other youngsters to celebrate their strength and courage through their battles.
Last year, she took the lead on a national charity drive, urging Scots to help save lives by clearing out their wardrobes.
The Give Up Clothes For Good campaign was organised by clothing retailer TK Maxx with Cancer Research UK.
Lily, who initially received treatment at the Royal Hospital for Sick Children in Edinburgh, also met her pop idols Little Mix backstage when the group played at Dundee's Slessor Gardens.
At the Dundee event, Lily raised more than £34,000 for local charities.
The Florida trip is not the first time Lily has been treated by Kenny.
He arranged for her, Jane and Mary to be driven in a fleet of supercars – a Ferrari 488, McLaren 570S and Audi R8 – for a luxury break at Gleneagles Hotel.
Kenny also raised £4,000 at a fundraising event when he put a Grand Prix experience in Monaco up for auction.