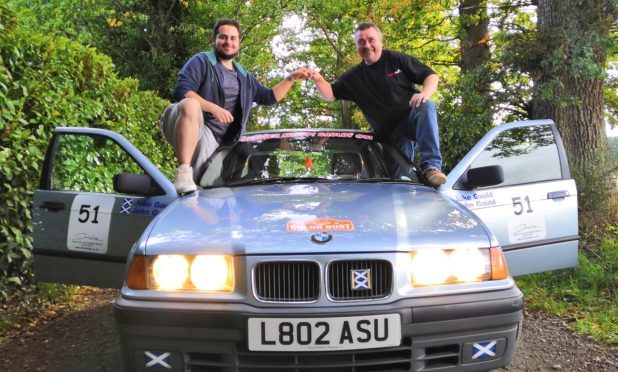 A Perthshire father and son have entered a gruelling cross country driving challenge to raise money for charity.
Jake and John Gauld from Crieff are taking part in the Gibraltar or Bust Banger Rally, which involved enthusiasts driving retro cars across Europe.
The pair have picked up a a 1993 BMW 316i to carry them on their quest.
Starting from Crieff, the daring duo will drive to Cornwall then onto Gibraltar via Spain and Portugal.
All along the 3,000-mile way they will be raising funds for Scotland's Charity Air Ambulance (SCAA).
They will set off on their travels on September 30 and hope to complete the route in five days.
John said: "My son Jake came up with the idea.
"I have been travelling around Europe on bike and car with my wife before, but we thought we should do something fun together.
"Initially when we went to sign up the company said they were full, which was just after we spent £300 on a car.
"However, they had a cancellation and we got involved."
The journey from Crieff to the start line will be a challenge in itself for a 25-year-old car, admitted John, but he and Jake are determined to do their best for their chosen charity.
"It starts in Cornwall so we already have over 500 miles to drive before it starts," he said.
"Then once it gets going, we will get a ferry to Santander and we will have challenges on the way to Gibraltar.
"Once we get there we will also take a trip to Morocco.
"We know one of the people who works for SCAA and we think it's a great charity to raise funds for."
The car is currently in a local garage, which is sponsoring the MOT costs.
The event is not a race, however Jake and John will have daily tasks to complete.
There is a £2,000 prize up for grabs for the team which receives the highest points in the tasks and finishes the challenge.
The pair are hoping to raise £1,000 for the air ambulance.
A SCAA spokesperson said the team were delighted to have Jake and John on board, adding: "We rely 100% on donations from the public, with no government funding.
"So it is fantastic to know that there are people like Jake and John ready to fundraise for us and help us continue to fly our paramedics to people in need."
To donate go to https://uk.virginmoneygiving.com/fundraiser-display/showROFundraiserPage?userUrl=GiborBust2018&pageUrl=1.