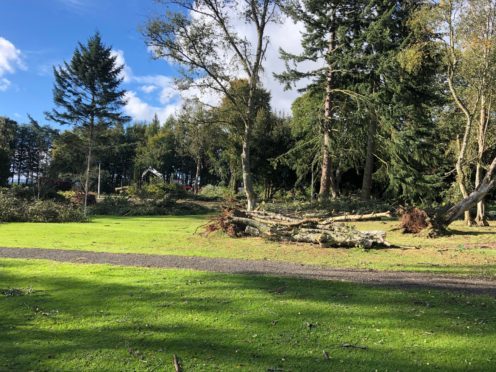 The memorial garden of Perth Crematorium will remain closed until Wednesday after dozens of trees were damaged by Storm Ali.
Many of thee trees were torn down during the extreme weather which ripped through Scotland last week.
The garden was closed all weekend as Perth and Kinross Council staff carried out repairs and safety work.
Some memorial stones were disturbed by the wind or tree roots but none appeared to be damaged.
A council spokeswoman confirmed the garden will remain closed until Wednesday, although "accompanied access" may be available before then.
"The memorial gardens at Perth Crematorium will reopen to visitor access from Wednesday September 26," she said.
"Family members wishing to find out about a particular memorial are asked to contact the crematorium directly and staff can arrange appointments for accompanied access."
All memorials in the affected areas have been photographed and marked to ensure they can be returned as closely as possible to their original location.
Across the country, more than 70,000 homes were left without power during the storm last Wednesday.
The Forth and Tay road bridges were also closed to all traffic for much of the day, with gusts of up to 102mph recorded over the River Tay.