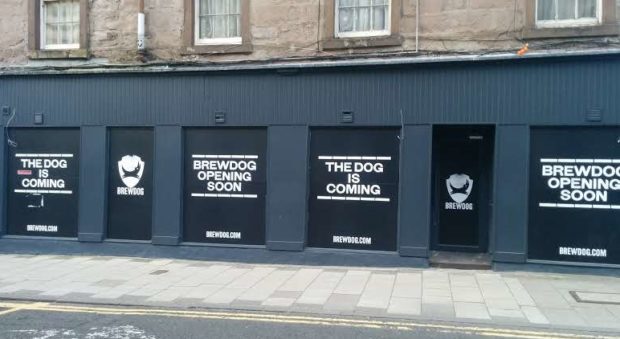 A popular pub chain are set to open the doors of their site in Perth next month.
BrewDog, which began in 2007 in Aberdeenshire, has confirmed that the finishing touches are now being applied to the site in George Street, Perth, and has outlined its reasons for moving to the Fair City.
The company, which now operate more than 30 specialist BrewDog bars across the UK along with several sites abroad, would not divulge the cost of the Perth development but expressed their delight in developing the site in Perth, which was formerly a coffee shop.
BrewDog state all their pubs are "well run" and have said food will be served at the Perth site.
A spokesperson for BrewDog said: "We don't have a confirmed opening date just yet but the team are putting the final touches together for a November opening.
"BrewDog are not disclosing the development costs but can reveal the bar will employ a team of eight people."
A planning statement submitted to Perth and Kinross Council by Firstplan on behalf of BrewDog added: "BrewDog have been seeking suitable premises for a bar in Perth for some time to help enhance their presence in the area.
"The BrewDog bars have developed a strong reputation as well-run and managed establishments and are operated with a strong emphasis on 'beer education,' specialising in the sampling and tasting of their beers."
The statement continues: "The ethos of the BrewDog bars is on tasting and sampling beers in a relaxed environment, rather than mass consumption. The bars are open throughout the afternoon and evening from midday, and food is available throughout opening hours.
"There are no dancefloors, DJs or live performances, with background music only. A limited food menu will be available, primarily comprising cold items such as charcuterie, along with a small range of pizzas.
"The premises had sat vacant for some time and the new development represents an opportunity to bring this prominent listed building back into a productive, employment-creating, long-term viable use that will contribute to the vitality, vibrancy and viability of the centre of Perth."
The site was previously run by Caffe Canto Bistro.