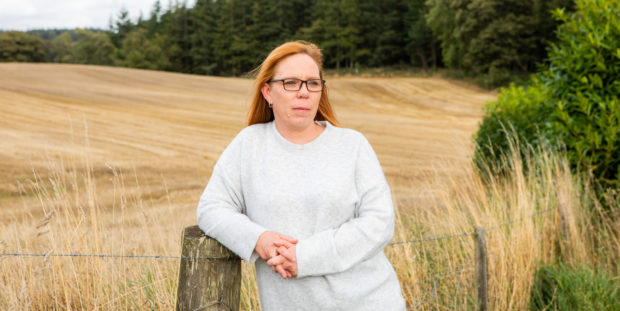 A mother completed an epic coast-to-coast hike to raise more than £2,000 for hospital staff who saved her son from a life-threatening blood disorder.
Alyson Rice from Abernyte trekked from Ninewells Hopsital to Clydebank, covering 81.2 miles over four days.
She decided to march after her son Cody Rice was diagnosed with flu in February, having spent weeks suffering from general aches, pains and fatigue.
When his condition worsened and his feet began to swell, he went back to his GP who sent him straight to Ninewells.
In less than 48 hours, he went into intensive care, diagnosed with blood infection septicaemia.
18-year-old Cody's lungs started to collapse in the first of several times Alyson was told her son was going to die.
Cody was transferred to the Golden Jubilee Hospital in Clydebank where he received open heart surgery to remove an infection.
During his time at the west coast hospital, Alyson and her husband Rod were told for the second time there would be a "very high chance" their son could die.
He then had a second operation to remove a large clot from behind his right lung.
He was eventually transferred back to Ninewells and finally got home at the end of June, about six months after his ordeal began.
Alyson dedicated her campaign, Jubilee Jaunt, to the hospital staff and thanked them for the care.
Her walked raised £2,030 for the hospital team and was to also raise awareness for the often misdiagnosed Sepsis.
She said: "I planned the walk from Ninewells to the Golden Jubilee to represent the journey Cody took and to raise not only money for this amazing team, but also to raise awareness of this life-threatening condition.
"It is due to the care and dedication of an amazing medical team at the Golden Jubilee National Hospital's intensive care unit that Cody is still here today.
"Many of his doctors consider him a miracle and had he not made it to Clydebank, he most certainly would have died.
"The staff in the intensive care unit do the most amazing jobs. Not only did they look after Cody but also myself and my husband Rod.
"My Jubilee Jaunt was just a thank you to the staff at the Golden Jubilee National Hospital for caring for Cody."
Donations on her Facebook page have closed, but you can view her story here.