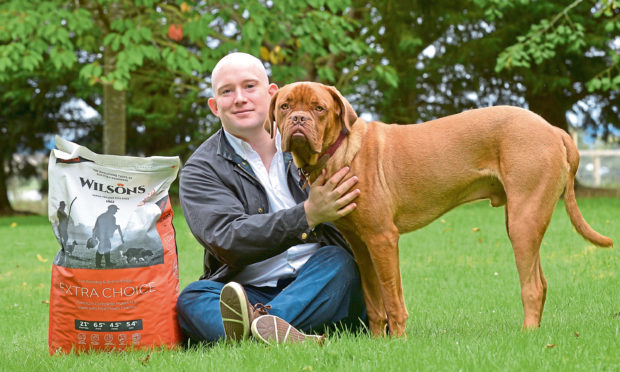 A Perthshire pet food company will deliver a dozen new local jobs after creating the UK's first purpose-built processing factory.
Two new plants have been constructed in Blairgowrie and Perth by Wilson's Pet Food after a takeover by local father and son businessmen Iain and Craig Wallace
The Blairgowrie pair purchased the name and assets of the former Dundee company earlier this year.
They have since invested around £750,000 in Blairgowrie to create the first purpose-built cold-pressed pet food factory in the UK, which is expected to be making new products next month.
December also signifies the opening of their frozen raw pet food factory at Perth and Kinross Council's new food and drink park in North Muirton.
The construction of both plants will see the firm create 12 new jobs by the end of 2019.
---
>> Keep up to date with the latest news with The Courier newsletter
---
It will also offer apprenticeships in Blairgowrie and seek meats and vegetables from farms across Perthshire.
Craig, who is working as managing director, said: "I'm from Blairgowrie so I know how difficult it is to find employment.
"I had to work in England for 10 years as the area didn't have the same opportunities.
"We are committed to youth employment, so for people in the area that find it difficult getting jobs, we will offer them apprentice schemes to get them a footing.
"We just recently hired a new head of sales to take our head count up to six, so we are growing and we hope to create 12 new jobs by the end of next year.
"A lot of the goods we use are meats, fish and vegetables and those industries are strong in Perthshire.
"Not only can we employ local people in the factory but also we can use local ingredients in the manufacturing.
"As the factory in based in Blairgowrie there is not a huge amount of investment in the area. So, the Scottish Government have provided us with a Regional Selective Assistance grant to help."
Wilson's food was first produced in 1861 and heralded from Dundee's Stannergate.
The company had mixed fortunes down the years under various owners before going out of business.
Craig added: "I didn't want to see one of the oldest dog food companies in the country going under because no one wanted to run it.
"We were fortunate that we could buy a company with such good heritage and was part of Dundee culture."