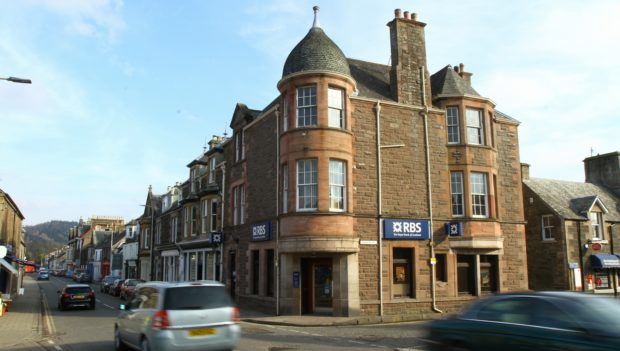 A date has been set for the closure of Royal Bank of Scotland's Comrie branch.
The axe will fall on the bank on Hogmanay, it has been confirmed, but bosses have pledged to keep the cash machine.
The Perthshire branch was one of 10 given a stay of execution as part of a nationwide cull, so footfall and other local factors could be further assessed during the summer.
Following the results of the wide-ranging study by independent consultants Johnston Carmichael, RBS announced in September it would close the Comrie branches, but save those in Biggar and Barra.
It was announced this week the bank's last day of operation will be December 31.
Despite the looming deadline, Ochil and South Perthshire MP Luke Graham has vowed not to give up the fight.
He said: "I am bitterly disappointed with the RBS decision to abandon its customers.
"The community and I sent a clear message, which has been ignored. I will now continue to pursue the matter through Parliament and ensure RBS deliver on its promise to keep the ATM in Comrie."
Earlier this year Mr Graham proposed new legislation forcing banks to maintain physical access to services in rural areas.
The Bill, which would enshrine in law the responsibilities of banks that have been bailed out by the taxpayer and are the last in town, will be given its second reading in February.
It is hoped it will establish £100,000 of community funds for each branch closure of taxpayer-owned banks to "help support the communities and customers they are abandoning".
It also seeks to strengthen post office services for rural and small communities across the UK.
Residents of Comrie fought hard to save their branch when the wave of closures, totalling 60 in Scotland, were announced.
An RBS spokesman said a mobile bank will visit Comrie weekly, although no information about when this will start was available.
"The branch is closing on December 31," he said.
"The ATM will remain and a weekly mobile branch will also visit."
The mobile facility has been criticised elsewhere in Perth and Kinross, where branches have already closed.
Customers in Aberfeldy and Pitlochry have reported being left waiting in the rain and cash machines in tourist hotspots have run out of money.