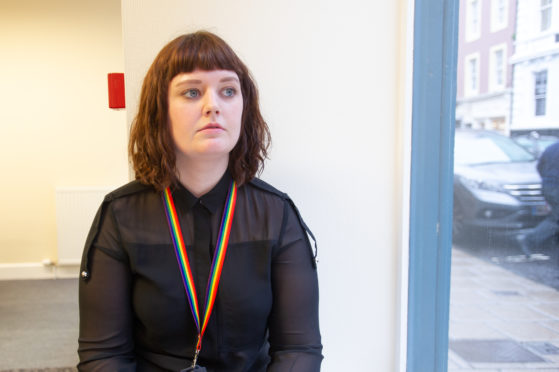 An aspiring author from Perthshire has been picked to write a book about her experience of domestic abuse by one of the world's leading publishers.
Lauren Aitchison from Alyth suffered for six years at the hands of her abusive ex-boyfriend and hopes speaking out will encourage other victims to step forward.
The 29-year-old began writing about the mental, physical and sexual abuse she faced between the ages of 19 and 25 before entering Penguin Rand House's Write Now programme, which aims to mentor and publish writers from under-represented backgrounds.
She is one of 10 to be picked from a pool of 1,700 to finish her book, a no holds barred, first-person account of what she went through.
Lauren, a communications assistant at Perth and Kinross Council, said: "One of the biggest problems with abusive relationships is often people don't know they are being abused, even when it is extreme.
"I didn't realise until months after I had left, it wasn't why we broke up. I hope hearing about my experience helps victims realise what they are going through is not acceptable".
During the relationship, Lauren was hospitalised with a perforated eardrum after her boyfriend hit her head against a wall.
But the abuse was often psychological, as he would hide her things and convince her she had lost them.
"It came on so gradually, like a dripping tap," she said.
"There were so many excuses, like he had an anger management problem or was stressed at work. It became something we went through together because he was so upset after he did it that I ended up comforting him.
"Sometimes I would actually start the fight because I could tell what was coming by his behaviour. "It's so time consuming waiting for them to hit you, knowing that it's going to happen eventually. It sounds crazy but I knew I had to be up early for work in the morning so instead of being up arguing until two in the morning and being hit anyway sometimes I would just hit him first to get it over with."
Eventually Lauren reported her boyfriend to the police but it took 18 months for a conviction.
Despite this, she still encourages victims to come forward.
"I hate to put people off going to the police but honestly the experience was horrendous," she said.
"A big part of the reason I went was because I was worried about his new girlfriend and I knew if I tried to approach her directly he would tell her I'm mental, so that felt like the only way to get it through to her.
"The worst part for me was I was just treated like another piece of evidence.
"I had to write a victim's statement for the court, I poured my heart out about how it had all affected me so for him to get that made me feel like such an idiot.
"Despite all of that I'm glad I did it, I don't think I would have had the closure I have without it."
Now Lauren is in a happy relationship and will be working with Women's Aid in the new year, on new policies to protect victims, as well as writing her book, with the help of a mentor from Penguin.
Although she is still living with the aftermath of the experience, she said it is the little things which show her how far she has come.
"I came home from work one day and went to open the door when I realised I wasn't holding my breath," she said.
"The whole time I was with him I had to gear myself up just to walk in, never knowing what he was going to do to me, and one day I realised I wasn't having to do that anymore.
"The biggest thing for me was just feeling safe in my own home for the first time in years."