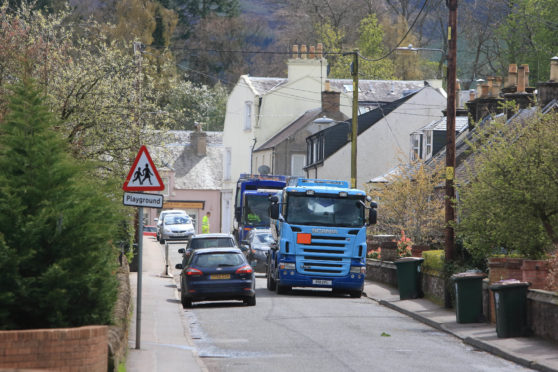 A much-needed link road in Auchterarder will be open to the public by mid-autumn after councillors approved plans for 128 new houses in the town.
The pledge was made by Stuart Henderson, technical director for Stewart Milne Homes as members of Perth and Kinross Council's planning committee nodded through the second and third phase of its 389-homes development.
Mr Henderson said the planning approval meant the company would now be able to fully open the "spine road" joining Benton Road to the Fues by the end of October this year.
The route is currently only partially open as it being used for access to the construction site.
Townsfolk had objected to the additional traffic being created by the development, arguing that increased congestion and parked cars on Hunter Street and High Street were creating a danger to public safety.
Mr Henderson said: "I understand the frustrations through this spine road not being open to the public. Unfortunately, we have not been able to open it while it remains a construction site."
The builder was originally granted planning permission to build 135 homes in phase two of its plans in 2009. Mr Henderson said the housing mix proposed "at the height of the boom" was no longer appropriate since "apartments just won't sell in Auchterarder."
"It is in our interests to try and get smaller homes in there. If we target the right market then it allows us to keep building. We are now proposing a mix that is much more appropriate to market conditions," he added.
The new development will contain only one flat, compared to 14 in the initial proposal, and more two and three bedroom homes. The number of four and five bedroom detached houses has also grown from 48 to 58.
Strathallan councillor Tom Gray, SNP, said: "I am very delighted with efforts made by Stewart Milne to bring forward the spine road. The strategic importance is that it takes traffic away from the Feus.
"There is hardly a resident in Auchterarder not delighted to see this road built. Stewart Milne are making great endeavours to make sure it is open on time.
"I am perfectly happy to move this report and I would hope that others would do the same."