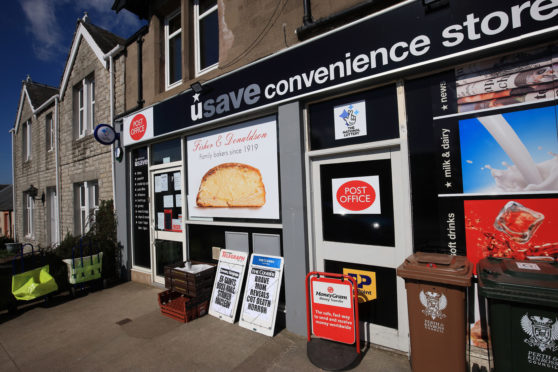 Scone Post Office will close on Friday, it has been confirmed.
Post Office Ltd has confirmed the current postmaster will cease operations at the close of business. However local politicians are hopeful the service will be open again soon.
A spokesperson stated: "We can confirm that the postmaster who runs Scone Post Office has resigned and will be withdrawing their premises for Post Office use and is set to close this Friday.
"The branch is run independently and while we always work hard to maintain Post Office services, from time to time, branches do temporarily close. When this happens, we always look to restore services as quickly as possible, as we know how important Post Offices are to communities.
"Any retailer or small business owner interested in running the Post Office and incorporating it into their business should email NTquestions@postoffice.co.uk or visit www.runapostoffice.co.uk."
Perth and North Perthshire MP Pete Wishart said he will explore all options to secure a new future for Scone Post Office, currently based at the uSave store on the village's Perth Road, after it emerged that the facility will close.
He said: "There have been rumours circulating about the future of the Post Office in Scone and I am saddened to hear that the current facility will cease operations.
"I understand that Post Office Ltd are already exploring options, including securing a temporary postmaster to keep some operations open in the interim period.
"Nevertheless, this isn't good enough in a town the size of Scone and I have already had initial conversations with a business who has shown an interest in taking on the Post Office in the town.
John Swinney MSP added: "I want to explore all options available as this is an important amenity in Scone and it is vital that we fight to keep it open."
"It is unacceptable for a community the size of Scone to not have access to a local Post Office. I have been in contact with Royal Mail to outline my concerns and I am hopeful that a new operator can be found for this essential service."
SNP Strathmore Councillor Fiona Sarwar said: "It is regrettable that the decision to close the Post Office has been taken.
"A town the size of Scone needs a well-run facility that is available to customers whenever they need it and that is what I will be fighting to ensure is delivered.
"Any constituents who are affected by the closure are more than welcome to contact me and I will do what I can to assist."
The Courier attempted to contact Scone Post Office several times but nobody was available for comment.