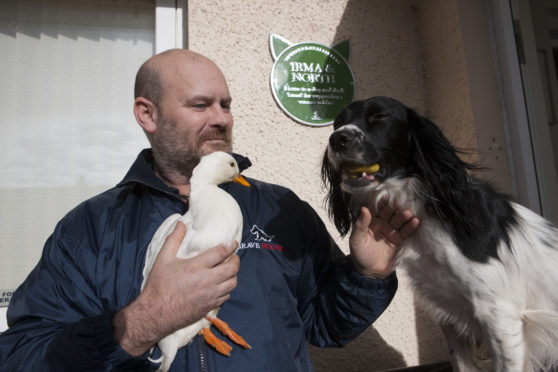 A dog and duck which have helped support their ex-serviceman owner through dark times have been given an unusual honour at their home in Perthshire.
Army veteran Paul Wilkie said he was thrilled to install a plaque at his property to pay tribute to Springer Spaniel Irma and pet duck North, who supports him with severe post-traumatic stress disorder (PTSD).
The pair have been at Paul's side through thick and thin after he returned home from active service in Ireland, Bosnia and the Falklands. He was paired with Irma through national charity Bravehound in 2016 and the pair were nominated for a top award last year.
The plaque, donated by global organisation Trusted Housesitters, lets North share some of the limelight.
Paul, 48, said: "I've had North since he hatched two years ago. I had a set of six eggs and he was the only one who was born.
"He thinks that I'm his daddy and follows me around all the time.
"He's become one of the family. He always comes when I call for him in the morning, and he's always trying to get inside the house."
Paul, from Guildtown, near Perth, said Irma has been a constant companion and he believes that without her, he would be "one of the many veterans who take their own lives every two weeks".
He added: "North is not an official therapy pet, but he has really helped me through some tough times.
"It's great to see his name up on the wall."
Paul said the plaque came out of the blue. "I have no idea who nominated me for this honour, but I'm really delighted," he said.
The former Royal Engineer got support from Bravehound after he started suffering horrific flashbacks to the horrors he witnessed during his 22 years of service.
He was homeless and was living in a tent in the woods when Bravehound stepped in to turn his life around.
He was the first veteran to be matched with a dog by the charity and the pair became inseperable. When Paul spent months at Ninewells Hospital, staff allowed Irma to stay by his bedside.