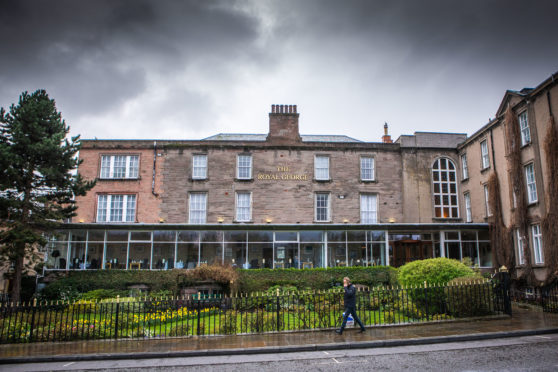 An iconic Perth hotel has been put up for sale by its owners after 20 years in their management.
The Royal George Hotel on George Street has been put on the market as its owners Eddie and Lorna Anderson are retiring.
The 46-bedroom, three star hotel, which is at least 250 years old, is one of Perth's most prominent establishments and has boasted a Royal guest list.
Queen Victoria stayed for a night at the hotel when a journey south from Aberdeen was put on hold, and the establishment's housekeeper had to eject guests from the best room for her to stay – the owner was in Aberdeen to see the monarch at the time.
The Royal George is being marketed by Edinburgh-based Colliers International.
Owner Eddie Senior has worked in the hotel trade for 50 years, including more than a decade at Perth's Grampian Hotel, but is looking to retire.
Since taking over the famous establishment, he's brought in massive changes including knocking through to incorporate the restaurant next door, building the conservatory overlooking the Tay, a fitness suite, games room and more.
Eddie, who moved to Perthshire from Glasgow in 1980, now leases part of the hotel to a local beautician and is set to lease out part of the basement to Perth Gin distillers.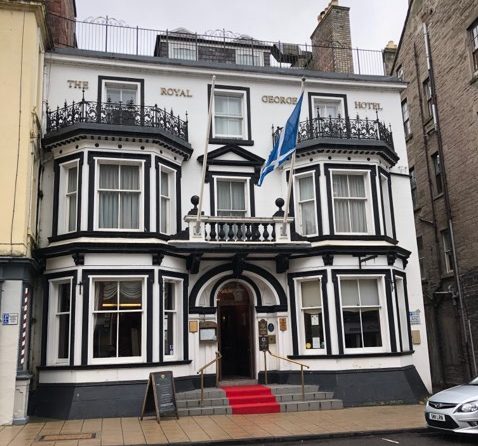 He said: "I said I would retire when my daughter finished university but that year, The Royal George went up for sale and they accepted my offer.
"When I first took over, we invested massively. Every bedroom was refurbished one by one, and we stripped out the abandoned restaurant next door and made it our morning room.
"We've had all the major parties hold their conferences here in my time – Conservatives, Labour and SNP. David Cameron stayed here when he was Prime Minister.
"We've had some real stars from Jools Holland to Nicola Bennedetti and Kiri Te Kanawa, the opera singer.
"The history here is phenomenal and is so important to the hotel. It's got a Royal Warrant and we've had lots of Royals over the years from around the world."
Eddie is looking forward to spending time with his family in his retirement, and has passed on his advice for his successor.
He added: "It's important to keep up with the wear and tear, which is tremendous. This could easily be a four star hotel but the upkeep is vital.
"With new blood and new money, that's possible. There's part of the building that's not in use, so there's plenty of opportunity to grow.
"Perth has never been more ready for development. It's the best place in Britain to live."