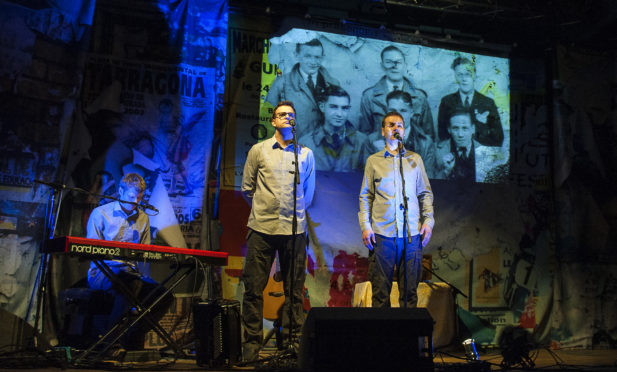 A trio of dramatic stage shows has been lined up as part of Perth's burgeoning arts festival programme.
Organisers have secured three hit productions from as far afield as Wales, Teeside and the United States.
The 10-day Festival of the Arts kicks off next month with performances from rising star Be Charlotte, live favourite Jools Holland and chart-topper Lewis Capaldi, among others.
Now the festival team are shining the spotlight on three stage plays at Perth Theatre which they hope will lure culture vultures from across the area.
The trio opens on Saturday, May 18, with a one-off matinee performance of A Regular Little Houdini.
The production by the Flying Bridge Theatre company is a coming-of-age tale set in South Wales at the turn of the last century.
Written and performed Daniel Llewelyn-Williams, the play follows a lowly dockworker's son who idolises his hero Harry Houdini and commits himself to a life of magic. But as the harsh reality of working class life in Edwardian Britain gets in the way, audiences watch a young man trying to follow his dreams while poverty weighs him down like mud.
The production has taken five awards, including the prestigious Best Actor gong in the Wales Theatre Awards. The one-hour performance will be followed by a question-and-answer session.
The next theatre production will be a double-bill on Thursday, May 23. From Los Angeles, the critically acclaimed Elanor's Story: An American Girl in Hitler's Germany is written and performed by Ingrid Garner.
It is a theatrical adaptation of her grandmother Eleanor Ramrath Garner's award-winning memoirs, detailing her younger years in Berlin during World War Two.
The production has gone down a storm at fringe festivals around the world, including Hollywood, Australia and Edinburgh.
Ingrid said: "I hope my audiences feel inspired to inquire with their own parents and grandparents about their experience of war. Many people fall silent after a war. It took my grandmother 60 years to share her story."
The trio of plays culminates with a piece of modern folk theatre. Presented by three-time BBC Radio 2 Folk Award winners The Young 'Uns, the Ballad of Johnny Longstaff is a true story of one man's adventures from begging on the streets in the north of England to fighting against fascism in the Spanish Civil War.
The production came about when, at the end of a gig, The Young 'Uns were approached by Mr Longstaff's son who wanted them to tell the story of his father's remarkable life.
The festival runs from May 16 and will boast a total of 35 events.