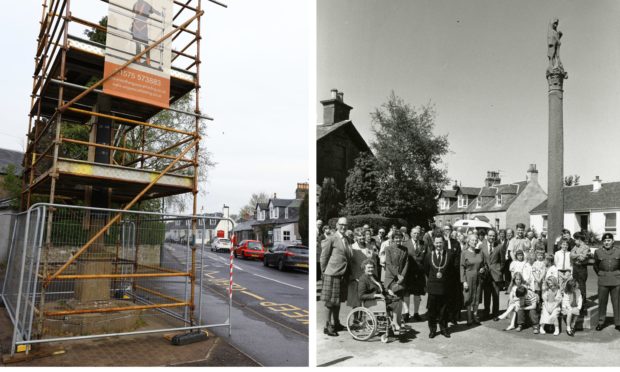 A 17th Century monument at the heart of a Perthshire village is to be taken down and restored.
Workers will remove Longforgan's mercat cross from its place on the Main Street this week.
Experts predict it will be at least a year until the monument is fully rebuilt.
There are fears that upcoming renovations to Longforgan Primary School could damage the cross further, putting public safety at risk.
The category A listed building has fallen into such a poor condition that conservationists don't yet know what it will take to restore it.
Mercat crosses are common in towns and villages across Scotland and mark the traditional gathering spot for markets and fairs.
The Longforgan monument features a lion set on top of a 20ft circular pillar.
Members of Perth and Kinross' property services team circulated an update to councillors on the cross.
It read: "You will be aware of the concern locally about the poor condition of the cross. While ownership and responsibility for maintenance of the cross is unclear, the council's property services team recently commissioned an initial condition survey.
"The moss which has grown on the monument made it difficult for the survey to give full recommendations for what needs to be done to conserve the structure. This will have to be cleaned and removed before the full extent of the necessary works can be known."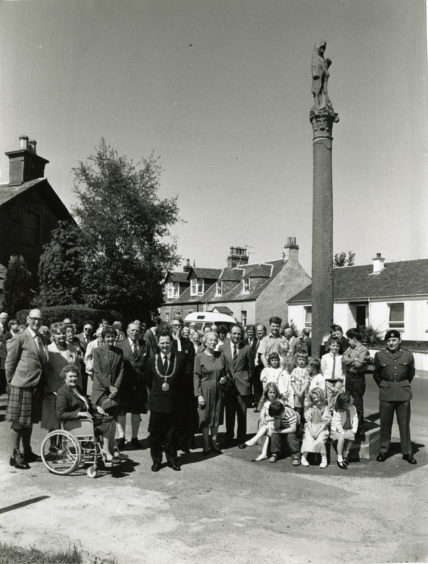 The update said many sections of the monument were in a poor condition and would require work to conserve them.
"Small areas of the stonework are also close to falling off, with the risk of causing further damage to the statue and potentially injury to members of the public," it said.
"While it is too early to say what the outcomes of the further investigations would be, it is expected that the monument will be removed for at least a year – the length of time the school construction project is expected to take."
Carse of Gowrie Labour councillor Alasdair Bailey said he would be "keeping close tabs" on the works.
"Unfortunately the monument has deteriorated to a level where it would have needed to be removed whether or not construction was happening nearby," he said.
"I'd like to thank Longforgan Community Council and the council's own conservation team for being proactive in this case."
A spokesperson for Perth and Kinross Council said: "An initial visual survey of the cross has shown that much of the stonework is in a poor condition. It is expected that the monument will be removed for at least one year."