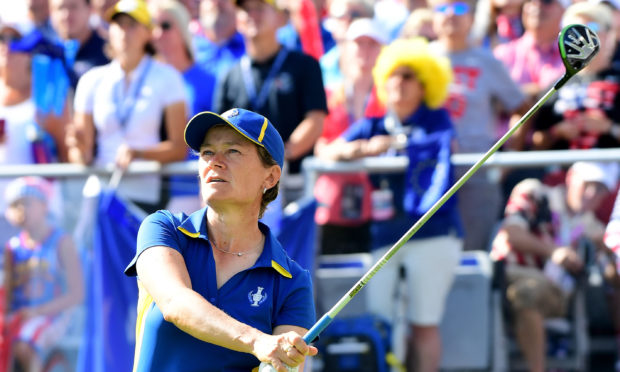 Solheim Cup fever is gripping Perth and Kinross.
The world famous golfing trophy was brought to the Fair City during a bumper weekend of sporting action to whet appetites ahead of September's tournament in Gleneagles.
The biennial contest, the biggest all-female golfing event, will pit a team from Europe against their counterparts from the US.
It is expected to be a major uplift for the local economy, while attracting a global TV audience in the hundreds of millions.
On Sunday, people were given the chance to have their photos taken with the cup during the Scottish Rugby Union's inaugural Caledonia Cup finals on North Inch.
The event saw 30 teams from across the country battle it out on five pitches for three trophies.
The teams – 18 boys' and 12 girls' – qualified for the cup, shield and bowl finals after more than 170 matches in the early rounds.
Visitors were also invited to try their hand at golf with an inflatable driving range and chipping target, as well as mini-golf.
The local Community Greenspace Team also launched a floral competition to celebrate the Solheim Cup's arrival.
Manuela Calchini, head of information at VisitScotland, explained how the cup could benefit the area.
"The 2019 Solheim Cup offers a significant opportunity to increase the number of golfing visitors to Scotland," she said. "But the event is also open to people of all ages and backgrounds, from golf fanatics to those who have never been to a sports event.
"The opening ceremony day will be packed full of great family activities and the impact of this, alongside the tournament itself will be felt throughout Perthshire and beyond. And with a TV broadcast audience of potentially 600 million households, this means a lot of eyes will be firmly fixed on Scotland."
Golf tourism is a key part of Scotland's visitor economy, worth more than £286 million on an annual basis with a target to grow that to £325 million by 2020.
Research shows that golf tourists spend around three-and-a-half times that of regular visitors.
The Scottish Government's aspiration is that the 2019 Solheim Cup is the biggest ever European edition of the event and the most family-focused golf event in history, with around 100,000 spectators expected at Gleneagles.