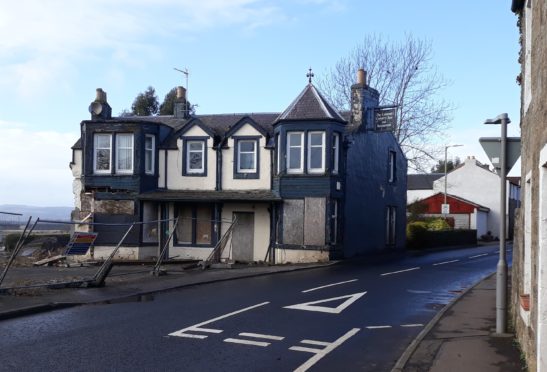 Dozens of residents came together this week to consider a community buy out of a dilapidated Kinross-shire building.
Around 40 people attended Portmoak Hall on Tuesday night to discuss a planning application to demolish the Lomond Country Inn in Kinnesswood to make way for a house.
The 125-year-old building, which has been derelict for more than seven years, falls within the village's conservation area.
A public meeting facilitated by Portmoak Community Council had more than 40 people attend to discuss the future of the building.
Attendees acknowledged the poor condition of the building but said it should be replaced with community facilities instead of a home.
Community councillor Dave Morris explained  the latest planning application will be discussed formally at next week's community council meeting.
Fife architects Lime Blue Design Build have asked Perth and Kinross Council's planners for permission to knock down the decrepit Main Street structure and replace it with a two storey home.
However, Mr Morris hopes the community will rally behind his proposal to take over the land for community use.
He said: "There are two issues before us, the immediate consideration of the planning application to completely demolish the Lomond Inn and replace it with a modern house and, from a more long term perspective, what is our vision for the future of the Lomond Inn site as a whole.
"With regard to the planning applications I think the situation is straightforward. My own view is that what remains of the inn should be demolished completely but there should be no new house build to replace it.
"The inn has deteriorated to such an extent it now seems inevitable that the whole structure must be levelled. This need not have happened if more care had been taken over its maintenance over very, many years.
"I think we should set up a community right to buy group. If the land can be secured, I suggest the provision of a parking area for vehicles, complete with electric charging points, along with a pull off bay for public buses along with a decent bus shelter.
"As much as possible of the remaining ground would be landscaped and used as amenity or garden ground, along with seats and information about the village, the loch and surrounding hills.
"Further down the line, we could look at a café, a shop, a meeting and reading place, a heritage centre, a camping area, land for allotments, an entry point to a low level path network."
Portmoak Community Council is set to discuss the plans further at the next meeting, its annual general meeting, starting at 7.30pm on Tuesday in Portmoak Hall.