A brain injury survivor walking from John O'Groats to Land's End for charity has paid a call to her family in Perth.
Zara Dyer's life was turned upside down when she was aged just 29 and working as a scuba diver in the Caribbean.
Zara, now 32, from Suffolk, was driving her car on Grand Cayman when she experienced either a stroke or a seizure that caused her to crash into a concrete wall.
She was airlifted to a hospital in Miami before being transported back to England more than a month later.
Her road to recovery has involved having to relearn how to do the simplest tasks, including walking.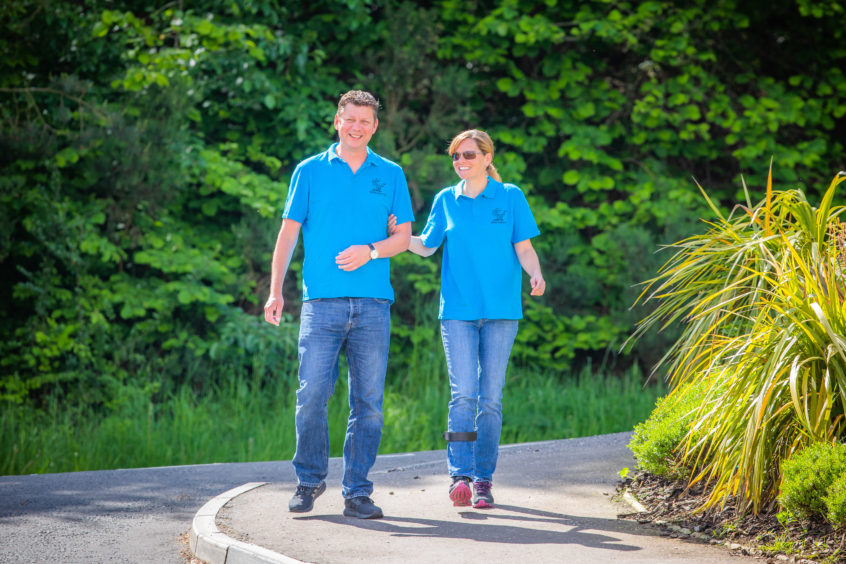 Less than three years on she is is trekking the length of the UK to raise awareness of brain injuries and to buy equipment to help fellow survivors.
"It's not easy, but it is possible," she said.
Alongside her partner, Ian Brown, Zara set up the charity 3 Million Steps and in May the couple embarked on their mission which has already raised more than £5,000.
Zara said: "The recovery for a brain injury is usually five years and I'm now at two-and-a-half years.
"It helps to have this challenge because it's a great motivator.
"The medical teams have all been quite surprised at how I've been getting on so I wanted to do this to give them a big thank you.
"I've also noticed that there isn't that much awareness about brain injury so I wanted to get people talking about it."
Now more than 560,000 steps into their three million step journey the couple have reached Zara's cousin David Ward's house in Perth.
The walkers made it to Pitlochry on Thursday before making their way to Dunkeld and on to the Fair City.
Zara said they had enjoyed the Perthshire welcome.
"The sun has come out and the people of Perth are very friendly," she said.
The couple say they would be delighted to welcome fellow walkers to join them at any stage of their journey as they make their way to Kinross over the next few days. They are hoping to reach Edinburgh by Friday.
Anyone wishing to join them can contact them through their charity's website, 3millionsteps.org where people can also donate to the cause and businesses can sign up to sponsor part of the walk.