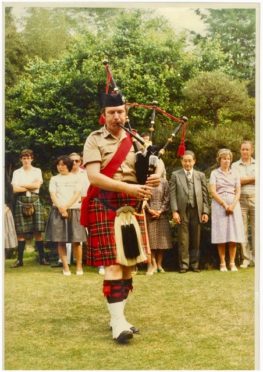 An Australian piper is trying to solve the mystery of a set of pipes bought in Highland Perthshire in the 1950s.
John Urquhart believes that his prized instrument could have been made by the MacDougall family of Aberfeldy, making it the bagpipe equivalent of a Stradivarius violin.
However, the 77-year-old has struggled to ascertain the provenance of the pipes, which were bought by his uncle on a visit to the area in 1955.
Experts say that proving the pipes are indeed made by the MacDougall firm could be complicated by the fact that few makers marked their instruments.
John now hopes that locals can help him track down the location of the smithy to help him trace the history of the bagpipes.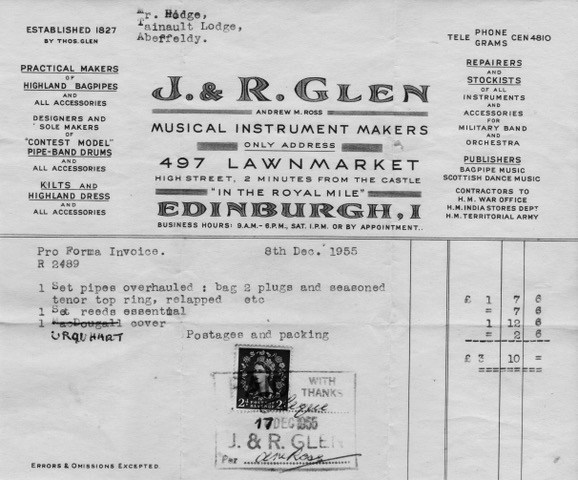 He said his uncle Ken brought his family to Scotland for a 12 month visit after winning £10,000 on the lottery and that his aunt Jean had taught in Aberfeldy for six months.
He said: "Prior to leaving Portland, Dad asked him to 'buy a set of pipes for John'.
"While having a drink in a local hotel (exact village unknown) and chatting about antiques, Uncle Ken asked someone where he could buy a set of pipes.  He was promptly directed to the local blacksmith.
"The smithy climbed up into his loft and came down with a set of pipes wrapped in a bag. Uncle Ken was told they were MacDougalls about 100 years old and purchased them on the spot.  He then took them to Glen's of Edinburgh for restoration.
"To find out the history of the pipes before they were taken down from the smithy's loft would complete the jig saw puzzle of my heritage."
Tantalisingly the invoice for the restoration amends the cover from MacDougall to Urquhart, but experts say this is not definitive evidence as bag covers are often changed over time.
Dr Decker Forrest, of the University of the Highlands and Islands, said: "MacDougall pipes, whatever their age, are sought after by pipers all over the world.
"As to the confirmation that the pipes in the photo were made by one of the MacDougall firms, that is impossible to say on the available evidence.
"Bagpipe manufacturer identification is a huge pastime and there are many who profess to be experts all over the world. The fact of the matter is that few manufacturers stamped their bagpipes, apart from on the chanters, and these tend to become separated from the drones over time or matched with other sets.
"There are a few diagnostic features in the design of bagpipes which can give clues, however; silver hallmarks, profiles of the various parts and the type of wood itself, and with closer inspection a likely maker and approximate date might be identified."
If you have any information on the pipes please contact John at thehomepaddock@optusnet.com.au.