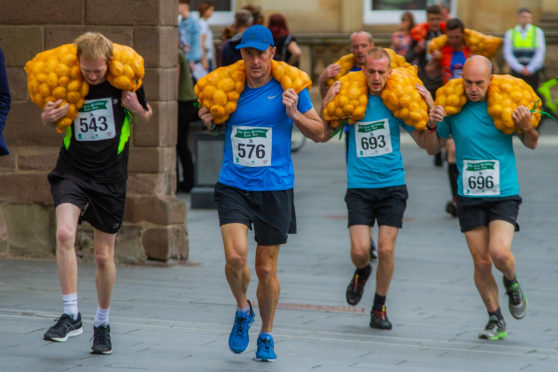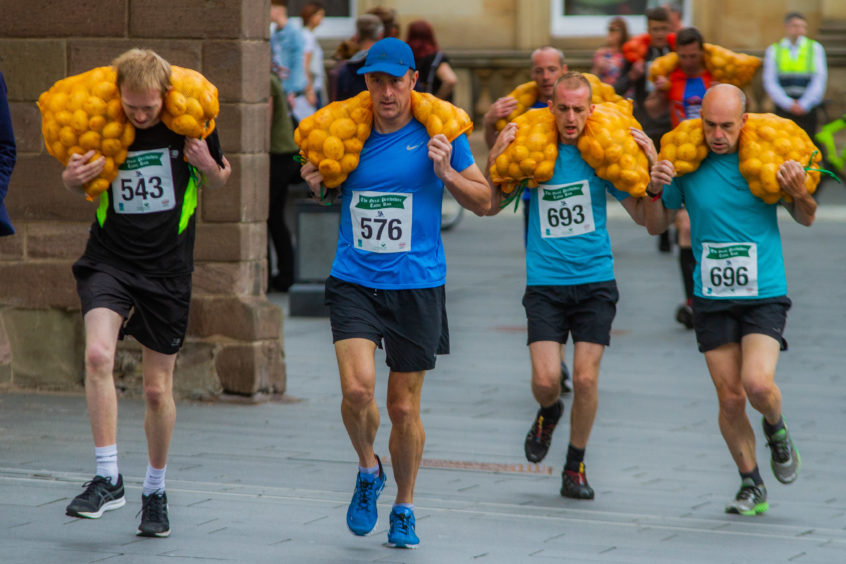 Around 300 people are expected to participate in Perth's most spudtacular race when the Tattie Run returns next month.
The Great Perthshire Tattie Run, back following a successful inaugural event last summer,  will see hundreds of people race through city streets carrying bags of potatoes on their backs, all in the name of good fun.
Competitors will take on a one mile course with men carrying 20kg of spuds and women carrying 10kg.
This will be followed by an adults relay race for teams of four, and then children and young people's 'Spud & Spoon' events.
Terry Crossley, the Tattie Run organiser, said: "We're already about 100 up from last year and we're expecting about 300 overall.
"They're coming from all over Scotland . It's going very well."
Terry also welcomed a new sponsor for the race, Branston from Abernethy.
Kevin Imrie, general manager of Branston, said he wanted to get people involved in events that promoted potatoes and vegetables.
Kevin said: "We're keen to do anything that gets people to eat more potatoes and this is a fun way to do it.
"We're based in Abernethy so we're only about 10 miles away so we've got a lot of employees from Perth and we like to do anything local if we can."
On Thursday, Perth and Kinross Provost Dennis Melloy joined the event organisers, sponsors and Super Spud the mascot in the city centre to mark the event.
Provost Melloy said the run reminded him of his tattie picking days.
He welcomed the return of the race, which will be hosted on the same day as a number of huge events in the Fair City, including Perthshire Pride and the Medieval Fayre.
The Provost said:  "Saturday August 10 will be a real 'Super Saturday' with so much going on in Perth city centre, and I'm delighted that the Great Perthshire Tattie Run is returning after its first successful staging in 2018.
"It's great to hear that even more people are going to give it a go in 2019 – and have the chance to enjoy the other diverse and exciting events taking place in Perth on the same day.
"It's just great to see it back and see the kids involved and it takes me back to my tattie days when I was lifting tatties."
Entering the Great Perthshire Tattie Run is free at www.greatscottishevents.org.uk and there will also be a late entry desk open from 11am on the day, situated in King Edward Street.