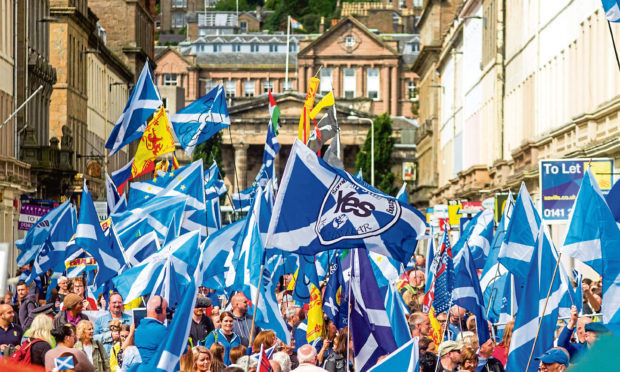 Pro-independence campaigners will be met with a counter-protest from unionist groups in Perth at a major procession this weekend.
Perth and Kinross Council has confirmed it is expecting an opposition group at Saturday's All Under One Banner (AUOB) demonstration.
Tens of thousands of pro-independence marchers will take part in a procession in the Fair City, following a three-mile route from Seven Acres in Letham to the North Inch.
Pro-union group A Force For Good have said they will be campaigning in Perth at the weekend as well.
Campaign director Alistair McConnachie said: " We attend all these Scottish nationalist events. Our 'Thin Red Line' flies the Union Jack high for everyone who is Scottish and British, who loves the UK and who wants us to stay together."
A council spokesperson said: "We have been made aware that there may be a small counter protest."
It is believed the number of unionist protesters will be significantly outnumbered, with between 10,000 and 20,000 independence supporters said to be flocking to Perth.
However with events at Westminster this week creating more political upheaval, interest in the demonstration could be higher than expected on both sides.
Managing the protests will be the responsibility of Police Scotland but the force is unable to comment on specific aspects of the policing operation.
Speaking previously, AUOB director Neil MacKay said that the group have been used to holding peaceful protests across Scotland, with Perth's set to be the seventh All Under One Banner march of the year.
Meanwhile, businesses have been advised the city centre will still be open to pedestrians after Perth and Kinross Council confirmed a lengthy list of road closures.
Parts of the city are expected to grind to a standstill as the thousands of marchers pass, with rolling closures set to start at noon.
Temporary signs had been put up around the city stating "no access to Perth city centre" but this only applies to vehicles.
Businesses across the city centre were sent a letter at the start of this week from the local authority explaining the list of closures.