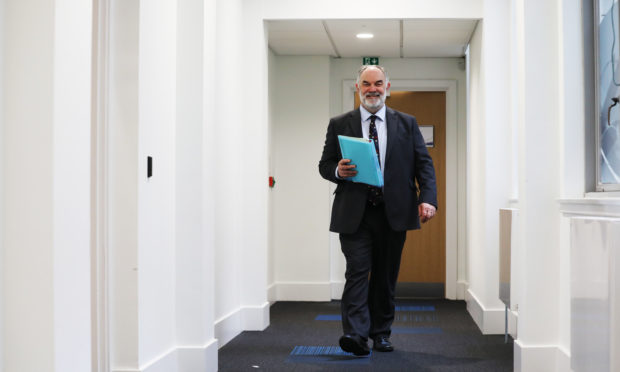 Perth and Kinross Council's ruling coalition has collapsed.
Liberal Democrats have been ejected from the authority's administration, after Conservative councillors voted to go it alone.
Tory group leader Murray Lyle told The Courier he accepted the move would pose major challenges for his party, but said he hoped it will deliver a positive outcome for constituents.
It is the latest twist following the shock suspension of two Conservative councillors Colin Stewart and Callum Purves, after complaints were made about their conduct at a health board meeting in July.
The Tory/Lib Dem administration's bid to remove the pair from the board was defeated last week, as opposition councillors seized tighter control of council groups.
On Monday, an emergency meeting of the Conservative group was called to discuss a way forward.
Mr Lyle said: "At the moment, we are going to try and work as a minority administration.
"Given the difficulties we saw last week, we are trying a new plan where we will consult with all opposition groups on an issue-by-issue basis, and see if we can come to a consensus."
He said: "It makes things more challenging for us in the administration, but I think it will give more opportunity for consultation and hopefully better outcomes for the people of Perth and Kinross.
"I'm not doing this for any other reason than I think this is the best route forward for the folk that elected to us."
Mr Lyle said a range of options were considered at Monday's group meeting. "We talked through all possibilities in detail and we came to the conclusion that if we are on our own we will stand or fall on our own terms," he said.
Lib Dem leader Peter Barrett said the partnership, which formed two years ago, had "redrawn the face of Perth as a safer, more modern, more inclusive, fairer city".
He said under the administration, road safety was improved, while housing and homeless services were transformed.
"We stood shoulder to shoulder with the Conservatives on hard decisions too," he said. "We did that when the SNP and renegade Tories were nowhere to be found.
"It is a strange way to be paid back for being steadfast partners."
Mr Barrett said: "The Liberal Democrats' record over the past two years is one we can be proud of and I want to thank all the council officers who made it happen.
"It is clear that nationally, and now locally, the Conservatives are in chaos. Hanging on to power by catching an SNP tiger by the tail is doomed to end in failure.
"They've caved in to SNP pressure to go it alone and we know who will be in the driving seat now."
SNP group leader Dave Doogan said: "We are very happy to see the malign influence of the Liberal Democrats removed from a position of authority and decision making at Perth and Kinross Council.
"It's a good move for the council and it will be good for the people of Perth and Kinross."