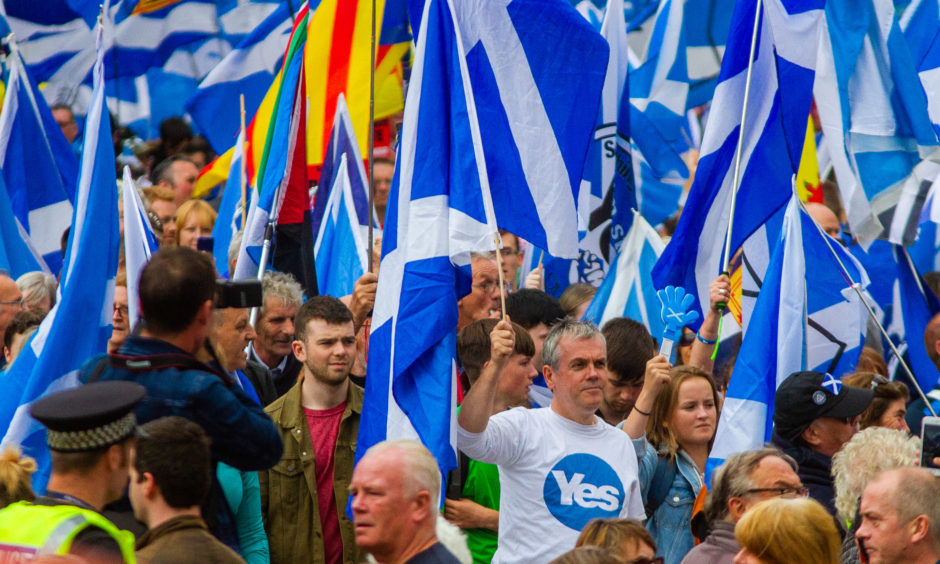 A majority of Scots now support independence, according to a new poll showing that Remainers are moving over to a 'Yes' vote.
A YouGov poll has put support for independence at 51% against 49% for 'No'.
The poll, which surveyed 1,039 Scottish adults, is the first to put 'Yes' ahead since 2015 and comes the day before Nicola Sturgeon outlines her "next steps" in her battle for an independence referendum.
A combination of Remain-voting Scots who backed No in 2014 switching over to Yes, plus younger generations joining the electorate, have been enough to give the pro-independence side a narrow lead https://t.co/CAPgSqD1l0 pic.twitter.com/mRNIsPuLwY

— YouGov (@YouGov) January 30, 2020
Published the day before the UK leaves the EU, the poll suggests that Brexit has pushed some voters towards independence.
One in five (21%) of those who voted "No" in 2014 but Remain in the EU referendum have now shifted over to 'Yes'.
Those who didn't vote in the 2014 independence referendum or EU referendum – including those who were too young to vote – currently break for 'Yes' by 51% to 25%.
But with Ms Sturgeon still calling for a 2020 independence vote this year the majority of Scots do not want indyref2 this year.
Yesterday the combined votes of SNP and Green MSPs resulted in a majority of MSPs backing a referendum within that timescale.
Despite that, the poll suggested 56% of Scottish voters opposed holding a referendum this year.
They were also against a referendum next year – 2021 – even if the SNP win a Holyrood majority in the 2021 Scottish election. However, most were open to a second independence poll within the next five years.
Despite the increased support for independence, more Scots (42%) thought Scotland would be worse off after independence than better off (35%).
Ms Sturgeon was still the most trusted politician when it came to Scotland's future with 46% of those polled saying they trusted her.
That compared with 18% for Boris Johnson, 8% for Jackson Carlaw and 6% for Richard Leonard.
A spokesman for the First Minister said: "We've known ever since the Brexit vote that a lot of people who voted No in 2014 have been changing their minds or considering changing their minds at least about independence, and I think the looming reality of Brexit will be crystallising the thought in a lot of people's heads that Scotland should be an independent country."
People in Scotland can see there is a route back to the European table through independence…

— Scottish Greens co-leader Patrick Harvie
He also cited the figures as further support of a desire for a referendum – despite Tory claims that Scots do not want another vote on the issue.
"It is a complete fallacy," he said. "They claim there is no desire for independence or a referendum, it is completely untrue. It is verifiably, palpably untrue."
Scottish Greens co-leader Patrick Harvie said it is "no coincidence" the poll shift comes on the eve of Brexit.
He said: "People in Scotland can see there is a route back to the European table through independence, and they can see that Green politicians and others across the continent would welcome an independent Scotland taking its place among other smaller progressive countries."
Concerning times for Unionists both north and south of the border'

— Chris Curtis, YouGov
Chris Curtis, political research manager at YouGov, said: "These are concerning times for Unionists both north and south of the border with 'Yes' gaining considerable ground on 'No' since 2014. But ultimately, whether a referendum happens won't be decided by polling, but the political manoeuvres of the Scottish and British governments.
"If there is a referendum, Scottish opposition to Brexit does give nationalists an opportunity to win more voters over to their cause. Yet the fundamental problem that flummoxed the 'Yes' movement in 2014, that independence would damage the economy, still exists and could still set them back in indyref2."