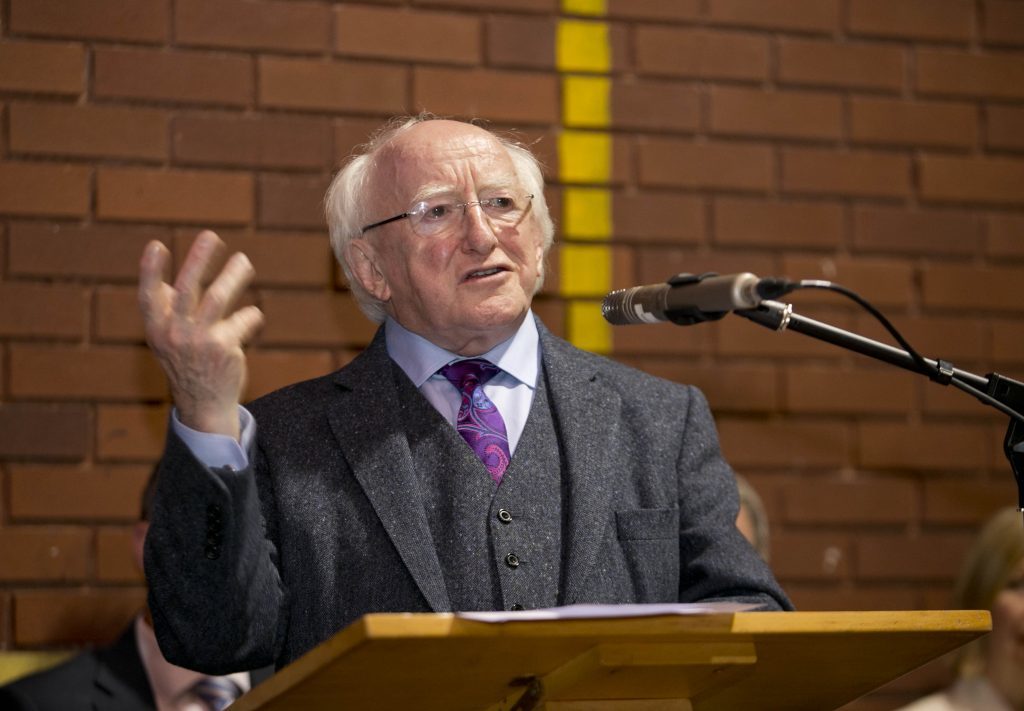 Irish President Michael D Higgins has hailed the "great ties" between Ireland and Scotland at the start of a three-day Scottish visit.
Mr Higgins will meet First Minister Nicola Sturgeon and receive an honorary degree from Edinburgh University during the trip.
On Monday, he addressed members of Glasgow's Irish community at an event at the Govanhill neighbourhood centre.
The president said he and wife Sabina had looked forward to returning to Scotland since visiting Iona in 2013.
Mr Higgins said the heritage, culture and language of the two nations were "deeply interwoven", allowing for a "profound connection and understanding" between the people of Ireland and Scotland.
He said: "The great ties between our nations, and the ancient migratory tendencies that we share, have enabled a greater flourishing of our interconnected culture.
"Many Irish and Scottish people have created new homes and forged new lives across the globe.
"Wherever they went they integrated into society and left their indelible marks on their new communities, especially through our unique, overlapping cultures of music and dance."
The president added: "Today, our interconnectedness continues to thrive and mature.
"The recent launch of the Irish Business Network, Scotland is a greatly valuable example of how we can work in partnership for the betterment of both our nations.
"The wonderful work done by Irish community organisations here in Govanhill and elsewhere in Scotland to share the best aspects of Irish culture with new Scottish communities, and to embrace modern Scotland in all its diversity, is truly inspirational."
Mr Higgins will receive an honorary degree of Doctor of Laws at a ceremony at the Usher Hall in Edinburgh on Tuesday, where he is also expected to take part in an a seminar on aspects of Irish history hosted by the university's School of History, Classics and Archaeology.
More from The Courier Scottish politics team