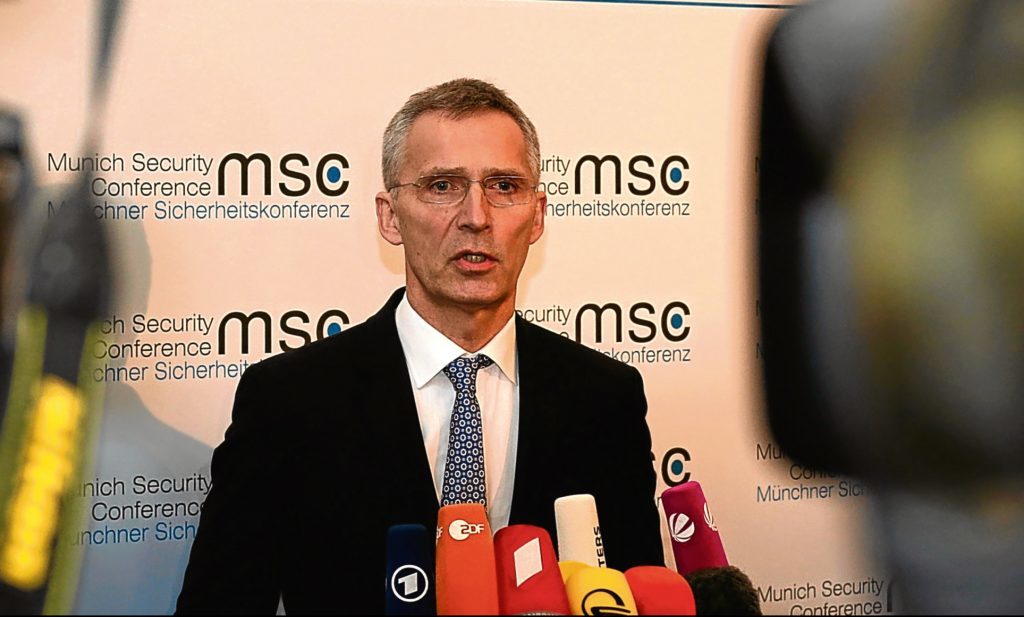 An independent Scotland would start life outside of the European Union and Nato, leaders of both institutions warned.
Being forced to reapply to join the military alliance will be seen as a blow for Nationalists, who endured a bitter debate to change party policy in favour of membership in 2012.
Jens Stoltenberg, Nato secretary general, confirmed there would be no automatic place for an independent Scotland.
He told Sky News: "If it happens [Scottish independence] then the UK will continue as a member of Nato, but a new independent state has to apply for membership and then it's up to the 28 allies to decide whether we will have a new member because all decisions in Nato are taken by consensus."
Asked if Scotland could expect to join automatically he added: "Not automatically, because by leaving the UK it will also leave Nato. But of course it's absolutely possible to apply for membership."
Meanwhile, Margaritis Schinas, the European Commission's chief spokesman, confirmed a similar process would have to be gone through to achieve EU membership.
He invoked the so-called "Barroso doctrine" when asked about Nicola Sturgeon's plans for a second referendum.
That refers to Jose Manuel Barroso, the former European Commission President, who controversially claimed it would "extremely difficult, if not impossible" for an independent Scotland to join the European Union ahead of the 2014 vote.
First Minister Nicola Sturgeon refused to say what she would propose in terms of an independent Scotland's membership of the EU when questioned after her Bute House speech.
She did, however, point out that being part of the bloc had been the party's longstanding policy.
Mr Schinas said: "We can only make a general statement at the moment such as the Commission fully respects the legal constitutional rights of the member states to organise things as they like.
"The Barroso doctrine, will that apply? Yes that would apply, obviously."
In February 2014, Mr Barroso told the BBC's Andrew Marr Show: "Of course it will be extremely difficult to get the approval of all the other member states to have a new member coming from one member state."
Spain has been seen as the most likely state to veto any potential Scottish membership bid, given its delicate situation with Catalonia seeking independence.
That view was rejected by Esetban Pons, the MEP and vice chair in the European Parliament for the People's Party, which is led by Spanish Prime Minister Mariano Rajoy.
He told the BBC last month that although an independent Scotland would have to start the process of joining the EU from outside the bloc, Spain would not try to veto membership.
He said: "If you are thinking about Catalonia the situation is very, very, very different to the Scottish situation."
It is widely accepted that an independent Scotland would meet the vast majority, if not all, of the conditions required to join the EU as a result of its current membership through the UK.
There will be negotiations, however, and European Parliament sources insist that Spain will demand significant concessions over Scottish fishing rights.
Guy Verhofstadt, the European Parliament's chief Brexit negotiator, has said that Europe "cannot afford" to lose Scotland.