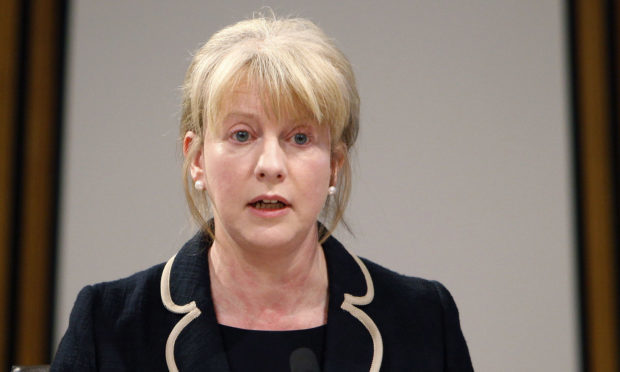 Shona Robison faces being dumped as Health Secretary in a cabinet reshuffle likely to take place within weeks, according to an SNP source.
The Dundee East MSP has been urged by opposition rivals to resign from her ministerial post after presiding over the spiralling financial crisis at NHS Tayside.
Scottish Labour, which has led the resignation calls, says the pressure will be turned up this week, which brings a Holyrood debate on the health service and the publication of NHS performance figures.
After the Sunday Herald reported three SNP insiders want Ms Robison to be replaced, a senior figure in the party told The Courier "there is going to be a reshuffle before the summer recess".
"I think it will be between the deputy leadership election announcement, between the conference in early June, and us breaking up for the summer recess in the end of June," the source said.
"The word on the street is that Jeane Freeman will be the new health secretary."
Ms Freeman has been in charge of the handover of the benefits system to Scotland and is seen as a safe pair of hands.
The social security minister has experience of running a health board as the chairman of the Golden Jubilee National Hospital.
Anas Sarwar, Scottish Labour's health spokesman, said it is "increasingly clear that Shona Robison has lost control of her brief".
"The sheer scale of pressure across the health service is simply unsustainable. She is out of her depth and out of time," the MSP added.
Ms Robison, who is a close friend of Nicola Sturgeon's, said she will not be distracted by "cheap" calls for her to go.
"I'm here to do an important job today and the rest of the week – and the rest of the coming weeks and months – to get on with important things within the NHS," she said last week.
The NHS Tayside crisis hit new heights when it was revealed that £2.7m of its endowment fund, which takes donations from the public, was used for routine spending.
Andrew Cowie, a GP in Hawkhill in Dundee and non-executive member of the Tayside board, is recorded in minutes of a board meeting that the "current level of funding from Scottish Government was inappropriate".
In a bid to save costs, Tayside health chiefs are cutting back on paracetamol hand-outs.
The health board's dire finances have been driven by huge prescription costs and agency staff spending.
An NHS Tayside spokeswoman said ibuprofen and paracetamol would continue to be prescribed when "clinically appropriate", but said they are available over the counter at low cost.