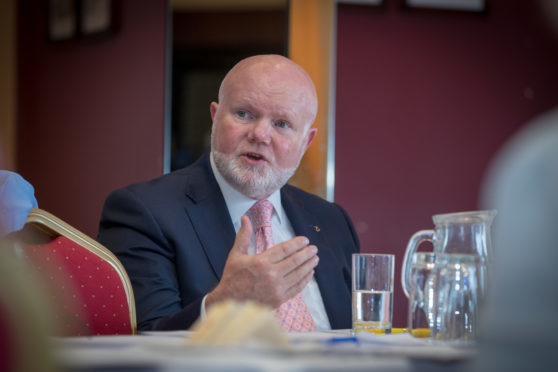 The SNP party treasurer has donated to Alex Salmond's crowdfunding campaign to take legal action against the Scottish Government.
Colin Beattie, the MSP for Midlothian North and Musselburgh, gave £20 to the online campaign and left a message: "Fairness and transparency."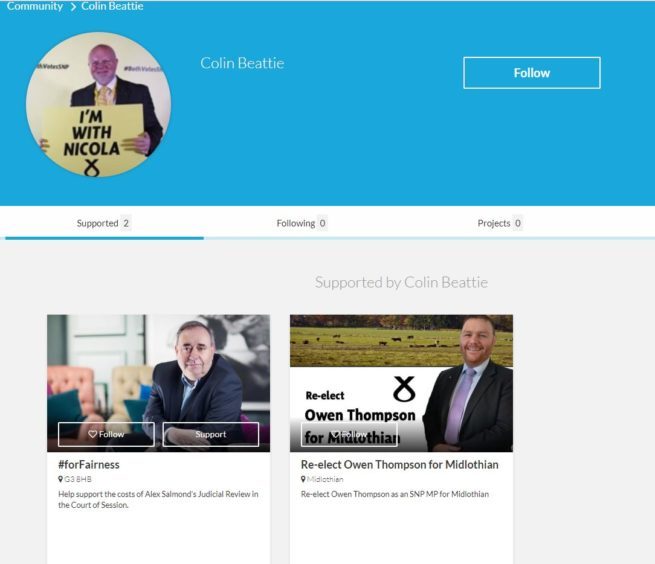 Former First Minister Mr Salmond soard past his fundraising target for his court of session challenge against the Scottish Government within hours of announcing he had quit the party while he is investigated over claims he sexually harassed two women during his time in office.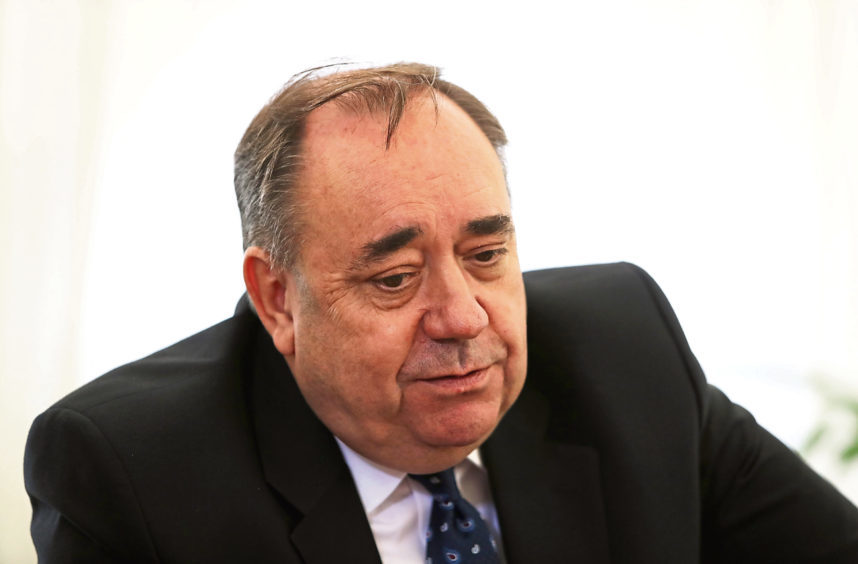 Mr Beattie, from Forfar, donated after the £50,000 goal had been surpassed. His donation later disappeared from the Crowdfunder website but his comment did not.
The total is currently sitting at more than £93,000.
As SNP treasurer, Mr Beattie sits on the party's main leadership body, the National Executive Committee.
In a sign of disunity within the party, Western Isles MP Angus Brendan retweeted a comment that Mr Salmond's decision to temporarily quit was "a terrible indictment of the SNP's disciplinary culture."
Can't help but think this is a terrible indictment of the SNP's disciplinary culture. Innocent until proven guilty! @AlexSalmond https://t.co/MzRZQYnNZk

— Jason Michael (@Jeggit) August 30, 2018
Wow!!! at £70,000 Salmond crowdfunder makes average donation being about £25. https://t.co/uGzOffAsbv

— Angus B MacNeil MP (@AngusMacNeilSNP) August 30, 2018
Ian Blackford, leader of the SNP group at Westminster, said he gives his "absolutely full support to the government" in the legal process, denied there were splits in the party.
"This is a party, this a movement, that is pretty united," he told a Scottish Parliament Journalists Association event on Thursday.
"I am not getting messages from people suggesting that there is civil war within the SNP, far from it.
"What we have said is that we cannot treat anybody, whoever they are, any differently from how we would treat an ordinary party member."
Ex-SNP leader Mr Salmond is challenging the way the complaints against him have been handled – and also strongly denies the allegations.
Opposition parties have attacked the fundraising move as "astonishing" and "unbelievable" – with some Labour politicians urging the public to donate cash to charities working with women who have suffered abuse instead.
Nicola Sturgeon, the current First Minister and SNP leader, voiced her "huge sadness" over Mr Salmond's decision, but said she understood why her mentor for three decades had chosen to relinquish his party membership.
Later, she tweeted her support for a Scottish Women's Aid crowdfunding appeal to take court action against the UK Government's decision to limit child tax credit to the first two children, the so-called rape clause.
If you can, please help Women's Aid launch a legal challenge to the #rapeclause – the deadline is 9am tomorrow. If the target is not met by then, the money already raised is refunded and this disgraceful, anti-women policy will escape challenge. Let's get it over the line. https://t.co/SoEu8dnGGD

— Nicola Sturgeon (@NicolaSturgeon) August 30, 2018
Colin McAllister, one of the First Minister's special advisers, also retweeted an appeal by Rape Crisis Scotland urging women to make contact if they have suffered abuse or harassment.
To everyone donating to us and our centres, we say thank you. For any woman considering speaking out about abuse or harassment, we say you are not alone. We believe you. We will support you. We are here every night from 6pm-midnight on 08088 01 03 02.

— Rape Crisis Scotland (@rapecrisisscot) August 30, 2018
Ms Sturgeon had previously faced calls from opposition parties to suspend Mr Salmond from the SNP after the allegations emerged, but she insisted there was "no legal basis" to do so.
She also was clear that the complaints against her predecessor must be investigated and could not be "swept under the carpet".
The allegations about Mr Salmond's conduct towards two staff members in 2013, while he was in office, emerged last week.
Police Scotland confirmed on Friday that the complaints have been passed to the force.
A spokesman for the Scottish Conservatives said: "Scotland now faces the incredible and unprecedented situation of its most famous former first minister appealing to SNP supporters for cash to take legal action against the government he used to run."
Scottish Labour MSP Rhoda Grant accused Mr Salmond of "dragging Scotland into the gutter".