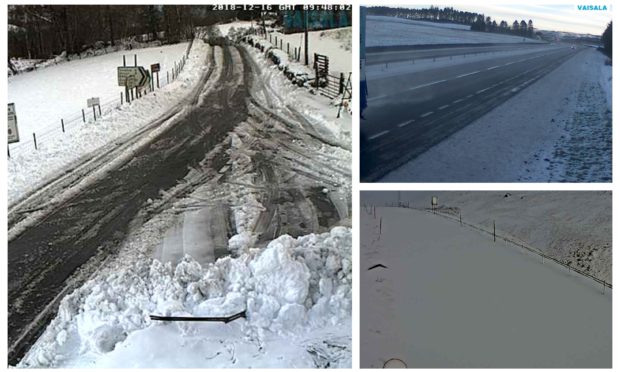 Tayside and Fife was hit by road closures and crashes as Storm Deirdre brought heavy snow, rain and wind to the local area.
The A93 Glenshee to Braemar road has been shut due to the weather as strong wintry showers hit much of Perthshire. The B974 Fettercairn to Strachan-Cairn O' Mount road was also closed due to the weather.
A'Shire Winter Ops Room 15/12/12:
Cairn O Mount snow-gates closed
A93 Braemar Snowgates closed

— Aberdeenshire Roads (@AbshireRoads) December 15, 2018
On Saturday afternoon there were crashes on the the A85 between Crieff and Comrie, which was forced to close for a time, and on the A9 northbound from Ballinluig to Dunkeld.
The snowfall on the A9 between Perth and Aviemore prompted a warning from Traffic Scotland and police.
⚠❄#A9❄⚠ 17.30#ExpectDelays on the #A9 between Perth and Avimore this evening. Heavy snow fall is causing treacherous conditions. #DriveSafe #PlanAhead #DriveToRoadConditions

— Traffic Scotland (@trafficscotland) December 15, 2018
https://t.co/iWa1VO0CNX Please take care if you're travelling on the #A9 this evening due to the wintry weather #StaySafe

— Police Scotland (@policescotland) December 15, 2018
Kinloch Rannoch in Highland Perthshire was particularly badly hit by snow.
WOW! Heavy snow in Kinloch Rannoch, Scotland this evening 15th December report: @HerneBayWX #severeweather #UKSnow #ukweather pic.twitter.com/4z0ufzNvnr

— WEATHER/ METEO WORLD (@StormchaserUKEU) December 15, 2018
And Fife Police Division said 'multiple vehicles' left the M90 Perth to Edinburgh road and A92 Dunfermline to Dundee route due to the conditions on Saturday as the Kingdom was hit by snow and sleet.
Busy night in Fife with multiple vehicles leaving the carriageway on the M90 and A92 due to treacherous surfaces following sleet and snow

Please remember to drive to the conditions and follow @trafficscotland advice for your journey #EastRP#WeatherOutsideIsFrightful

— Road Policing Scotland (@polscotrpu) December 15, 2018
Take it easy if out and about this morning. In this neck of Fife, many pavements and side roads are a sheet of ice and downright treacherous. @metoffice @BBCScotWeather @fifeweather Morning after the #StormDeirdre before! pic.twitter.com/6TmzFAgglx

— Michael Alexander (@C_MAlexander) December 16, 2018
Roads were also said to be badly flooded around Dundee.
Many took to Twitter to post footage of the snowfall across Perthshire.
Let it snow… #perfectplace #placetostay #winteriscoming #skiscotland #visitcairngorms #cairngormsnationalpark #perfectperthshire #caterantrail #highland #glenshee #pitlochry #enochdhu #perthshire #caterancountry pic.twitter.com/TrACNUn9X1

— Tallavey Cottages (@tallavey) December 15, 2018
The cars are all white and the road's lost its black.#Perth #WEdge #Snow ing pic.twitter.com/2clqXfyc5t

— DementedBonxie (@DementedBonxie) December 15, 2018
A9 PERTH AVIEMORE

Windy says treacherous driving conditions on the #A9 between #Perth and #Aviemore

Heavy snow and rain is now freezing

Take it easy oot there #DontDriveLikeAWankerSomebodyLovesYou

— Windy Wilson (@WindyWilson88) December 15, 2018
Two Met Office amber warnings for ice and snow were in place across Tayside and Fife until early on Sunday morning. It had warned of blizzards, freezing rain and treacherous road conditions.
snow in Piperdam near Dundee Scotland 100m ASL pic.twitter.com/N7WtzlbbwS

— Edo (@Edodfc) December 15, 2018
What a horrible night! Rather grim under foot and on the roads in the NE of #Fife – more like two inches of slush than snow. Already treacherous – Hopefully won't freeze as already lethal! Take it easy if on the move. @fifeweather @metoffice @BBCScotWeather #StormDeirdre pic.twitter.com/do5tKociV0

— Michael Alexander (@C_MAlexander) December 15, 2018
Treacherous under foot – but amazing post- #StormDeidre views in the #Fife countryside this morning ! @fifeweather @BBCScotWeather @metofficeEScot @metoffice @JudithRalston @CuparGolfClub #snow #WinterisHere @VisitScotland pic.twitter.com/6FnVu9MSEK

— Michael Alexander (@C_MAlexander) December 16, 2018
Primary Routes were treated at 15:00hrs & 21:00hrs & Snow Routes overnight. No further action is planned. Conditions are being monitored. https://t.co/CzhyHREjFS #fifegritting

— Fife Council (@FifeCouncil) December 16, 2018
There had been a few incidents across Fife where cars had skidded off the road, but no reports of any serious injuries.
Parts of Fife saw heavy snowfalls, where heavy rain led to flooding in other parts.
A band of cloud and showery rain is expected across the north of Fife on Sunday evening. It is expected to clear later, with temperatures expected to drop, leading to frost and ice forming overnight.
Meanwhile in Dunfermline, some folk took a bit of time to enjoy the heavy snowfall, creating a new snowpal having a rest on one of the benches at the gates to Pittencrieff Park.
Look who we saw at The Glen Gates this morning – again! Did you misplace a friend last night during the #festive #fun in #Dunfermline ???? pic.twitter.com/vdAQHgXTDj

— Visit Dunfermline (@LoveDunfermline) December 16, 2018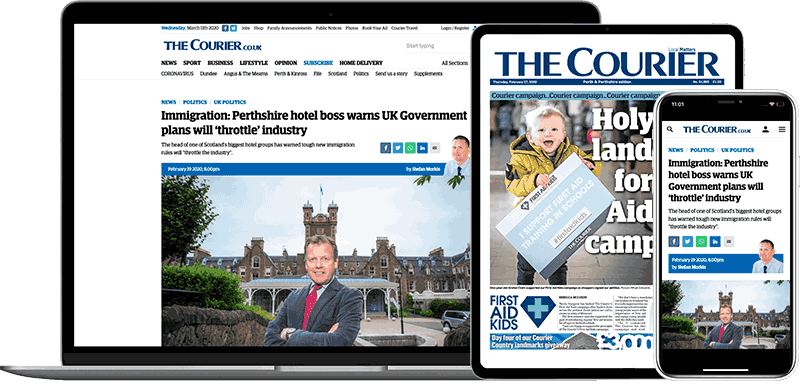 Help support quality local journalism … become a digital subscriber to The Courier
For as little as £5.99 a month you can access all of our content, including Premium articles.
Subscribe